Family Charts
Treemily Family Chart Maker is a map to your genealogical kingdom.
With its clear layout, it is the most fundamental way to navigate all of the branches of your family history.
Automatic Merge Of Duplicate Names
Floating Members
Highlighted Members
Map With Grid And Index
Lineage Visibility
Occasion Reminder-DOB-Anniversary
Treemily Family Chart is a map
to your genealogical kingdom.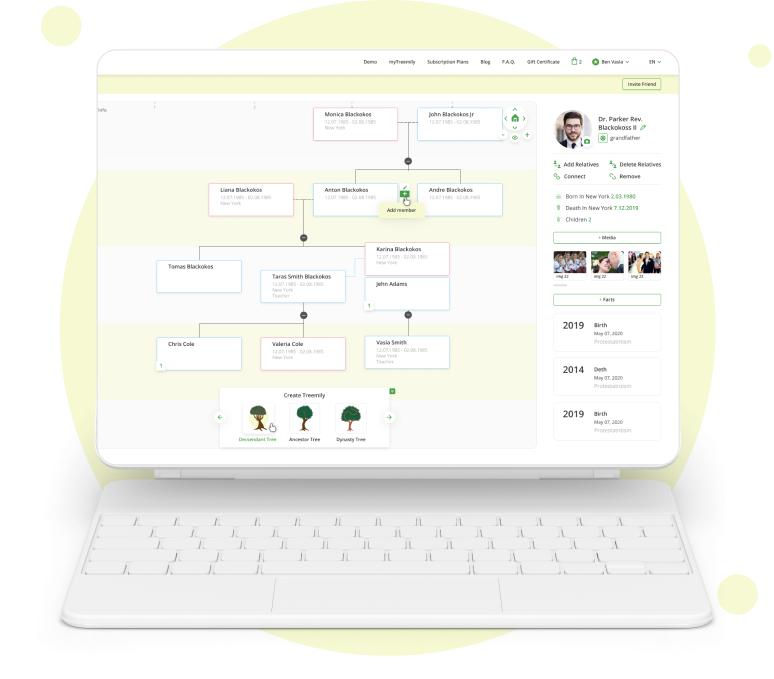 Discover how to make a family tree chart and create your first family tree online.
Family charts
Family Tree Chart: Direct Connect
The system automatically searches for possible matches to people on the user's family tree, possibly offering new data and insights into ancestors or distant family members. The user can then select various data points they would want to merge.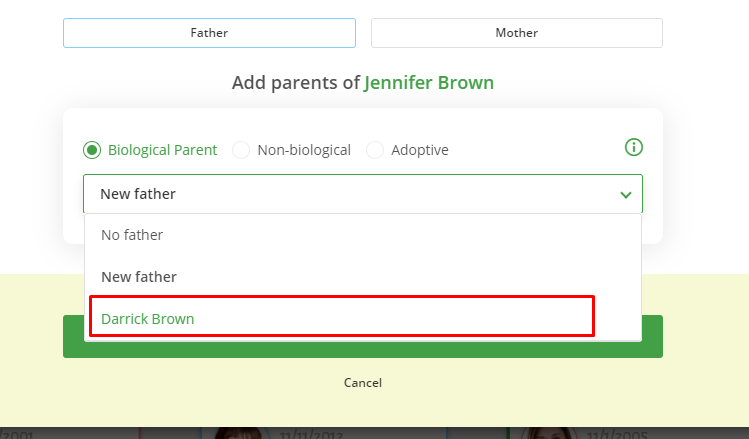 Family Tree Charts: Occasion Reminder – Dob – Anniversary


Automatic Merge of Duplicate Names in Family Tree Charts
When the family history chart has two or more identical names, and some of them are actually the same person, the system will detect it and display a duplicate list where the user will have the option to merge them and teach the system that it's the same person.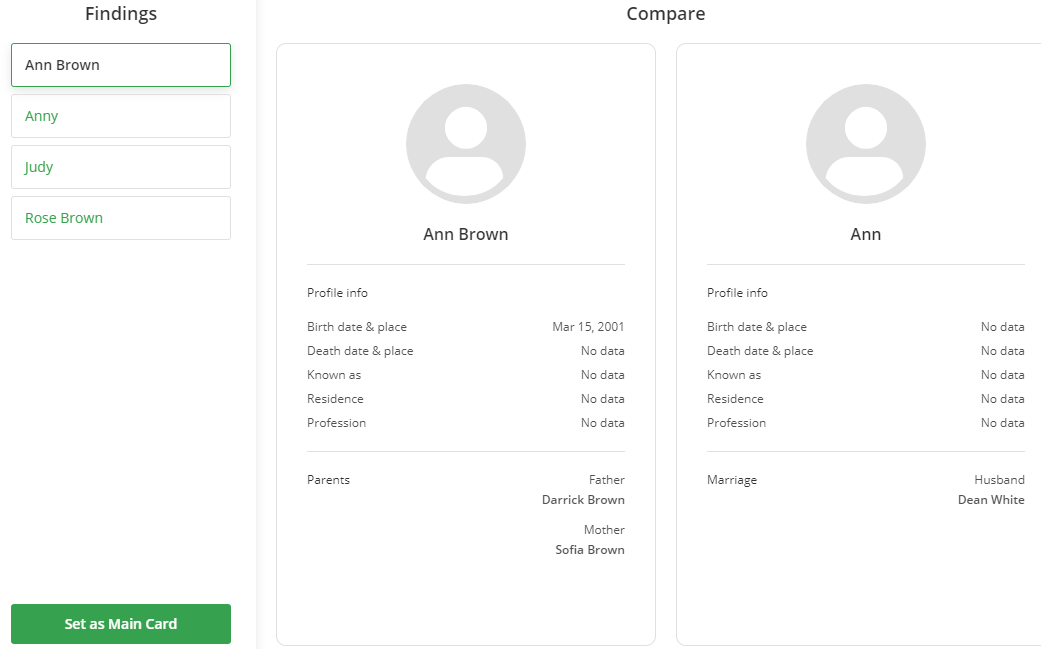 Floating Members of Family Tree Charts
A floating member is defined as an ancestor with an unknown direct lineage.
If you know that a specific person is your ancestor but do not know exactly how that person links back to you, our family tree chart maker allows adding that person to your chart without direct links. It is reflected on the chart with dotted lines and gray name cards when a gender is not selected. If you do discover ancestors of that "floating member" you have the ability to add that to that name card.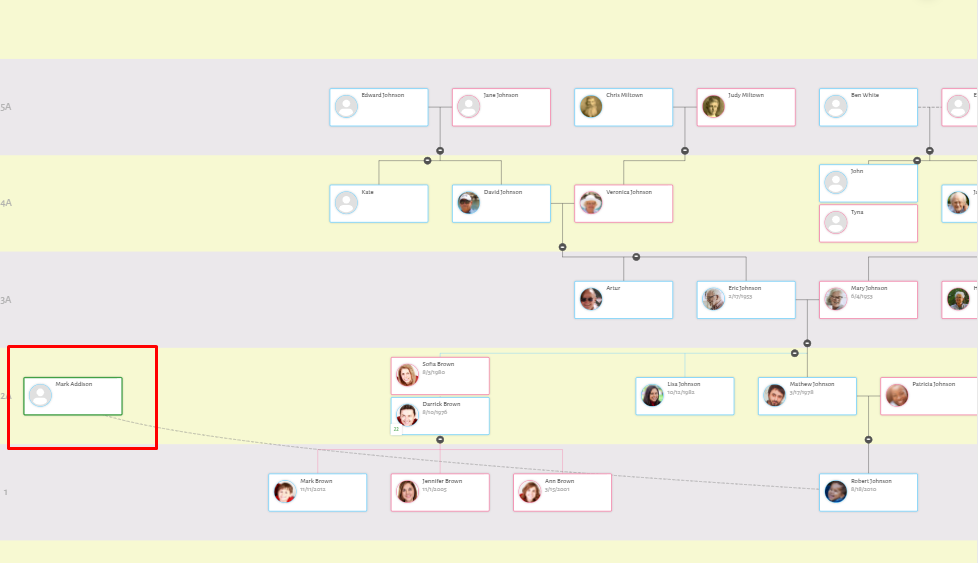 Highlighted Members of Family Tree Charts
Have someone really special in your family tree? You have the ability to highlight a specific member in your chart. You have a choice of three special icons to add to any member and/or thicken the border for extra visibility in a variety of colors to underscore the significance of that individual.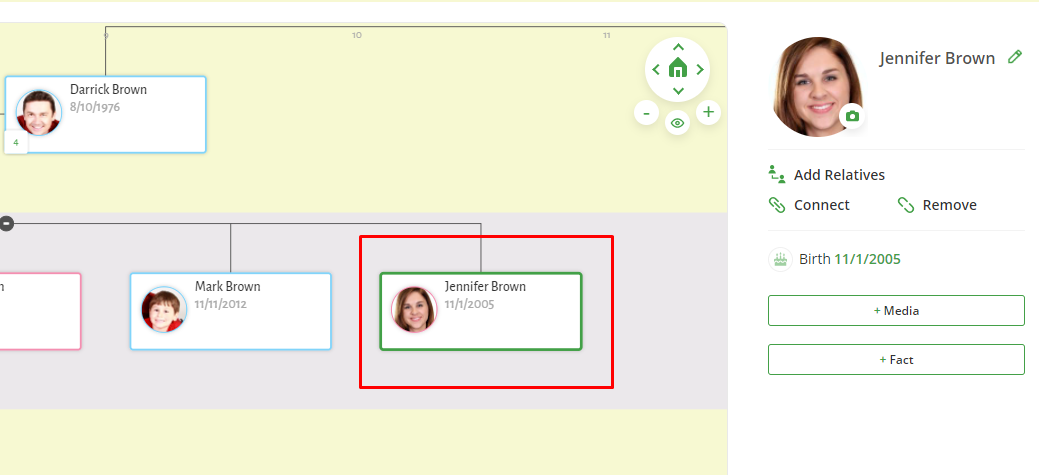 Family Tree Charts Map With Grid And Index
You can convert your entire family tree chart for printing along with a full map featuring grid numbering and index to easily locate any name on it. The side and top location codes list each name in the index.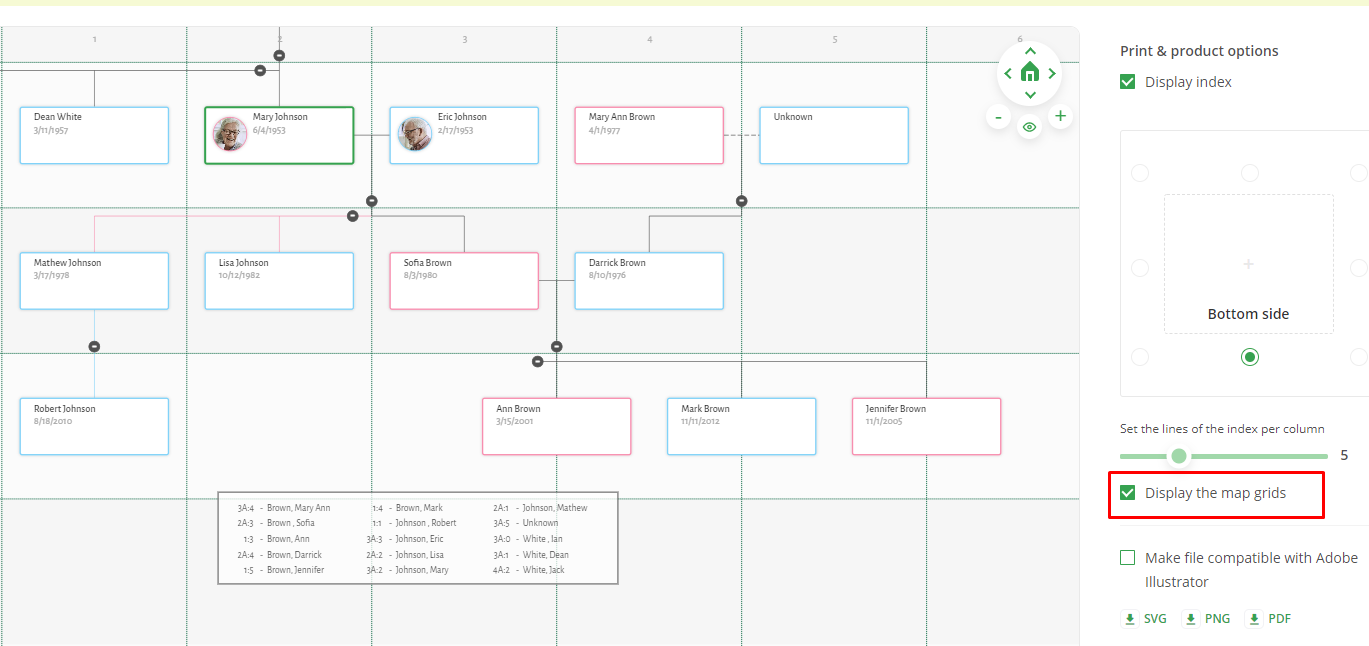 Index Location On Family Tree Charts Map
The index can be displayed at a location of your choice when you prepare the chart for printing.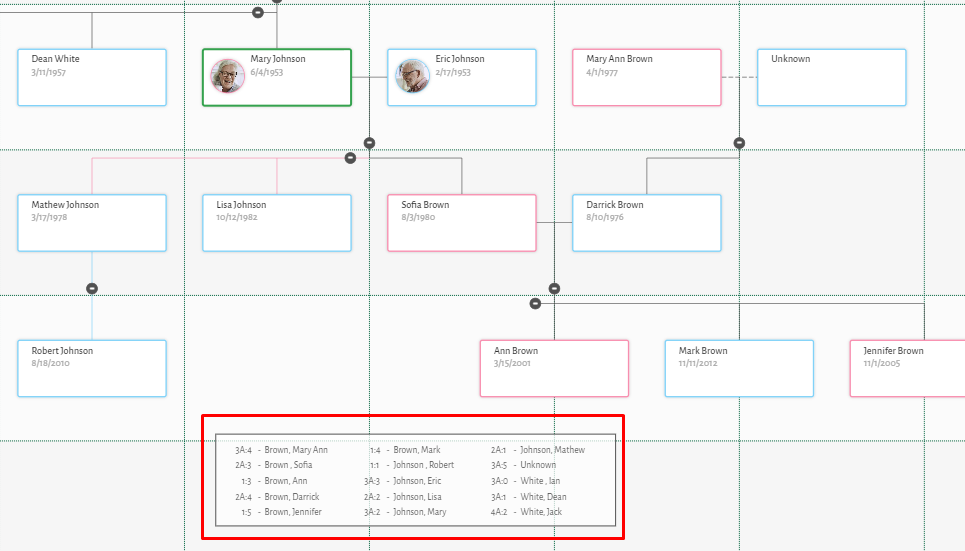 Family Tree Charts: Member Search List
An easy alphabetical search of all members on your family tree. Click on the name you want and it will direct you to that member on the chart. Alternatively, you can type in the name you are looking for in the search names textbox.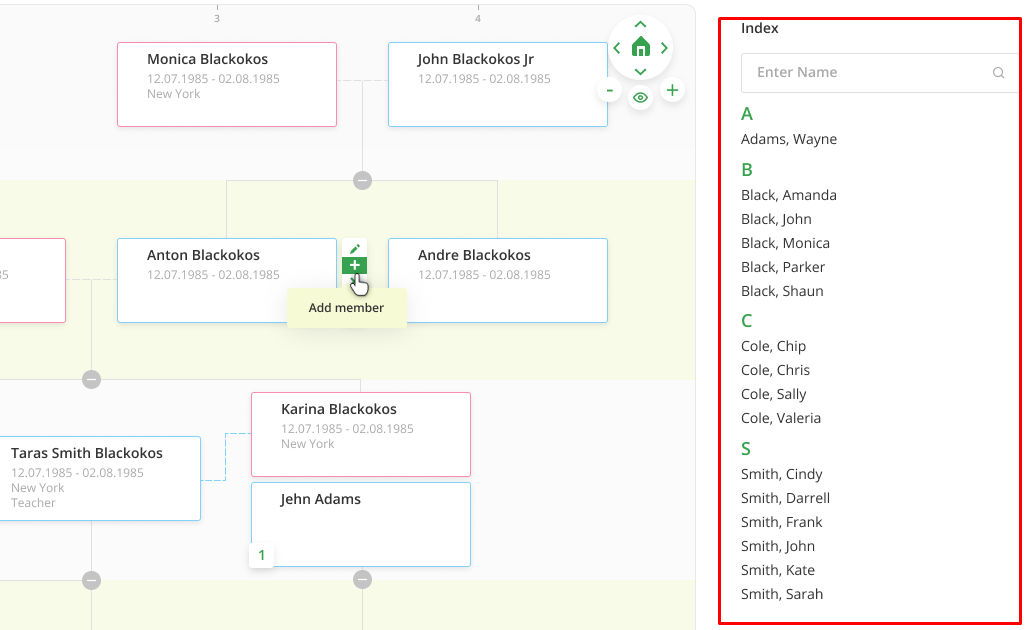 Maiden Name on Family History Chart
This feature allows you to see a specific lineage for any ancestor you choose. If you are a descendant more than once from the same ancestor, (as pictured above) you can view each lineage separately.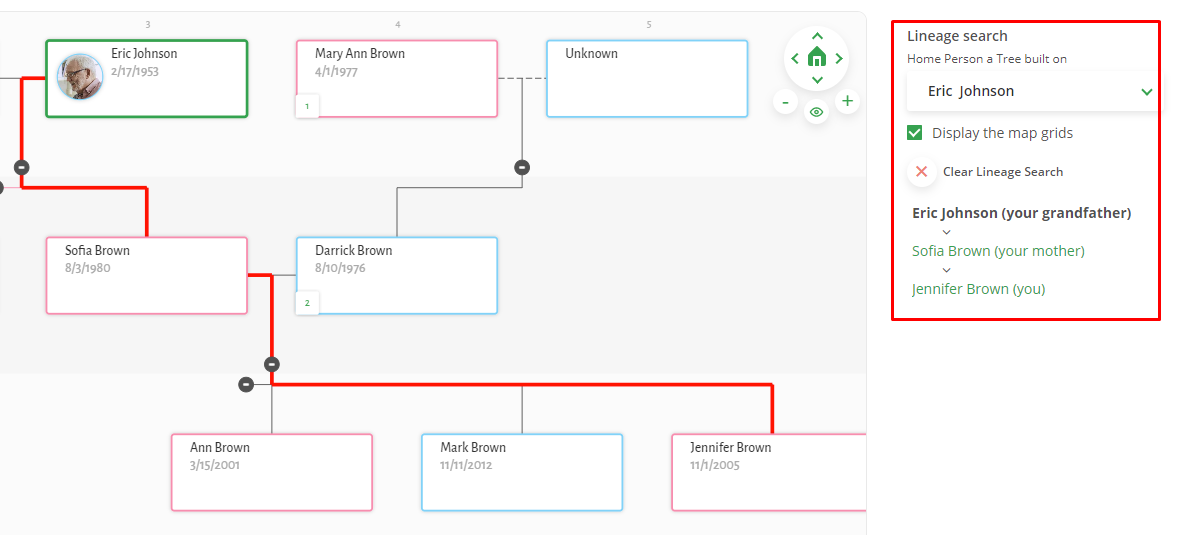 Maiden Name on Family History Chart
You can choose how you want the names should be displayed on the chart.
The top photo shows the maiden name and the bottom one does not. You can customize however you want. There are many more choices of what information you want to display, and what you want to hide.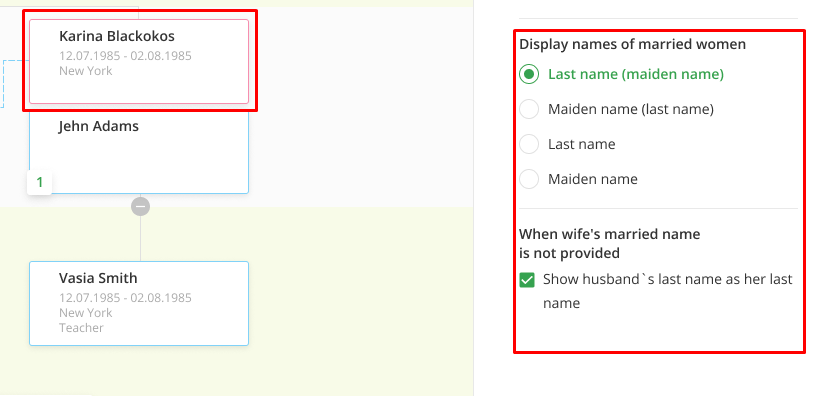 Only Direct Display of Ancestry Family Tree Chart Maker
Is your family tree getting too crowded? You can select to see only your direct ancestor without all of the great uncles and their siblings and their children. If you want to save space on your print and limit it only to your direct ancestors, you can simply switch off the relatives you don't want on your tree at the moment. This is especially important to someone with a large extended family and wants to focus only on his or her direct ancestors.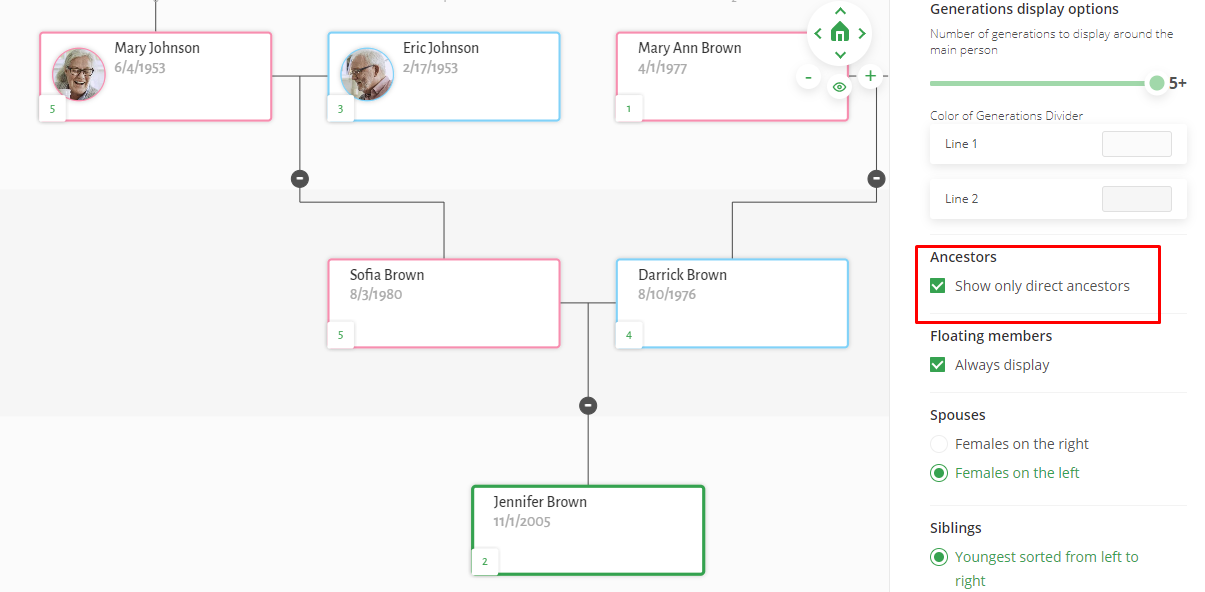 Family Tree Chart Maker: Former Spouse Selector
When you and your former spouse don't have any joint descendants, you can switch him /her out from the chart at any time. Some people don't want their former spouses on their family tree chart for whatever reason. We give you that flexibility.
At the event you do have joint descendants there are different steps for displaying the family tree in a way that will make everyone comfortable.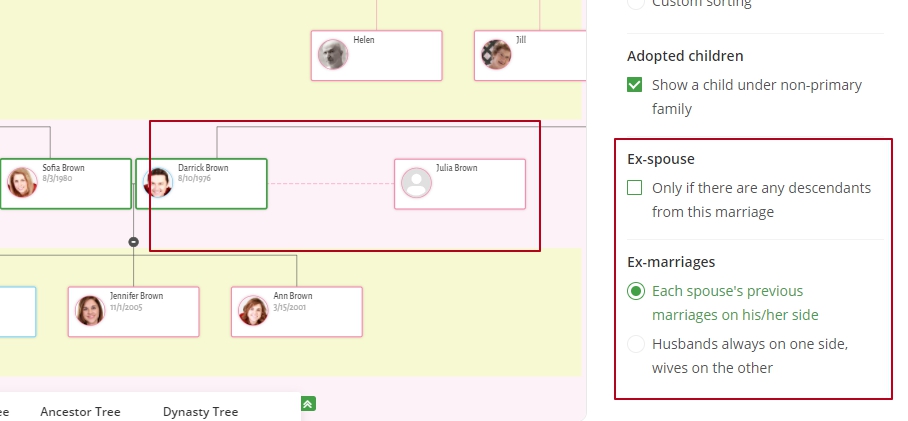 Family Tree Charts: History
The user can go back to any item on the family tree to make corrections, add, or delete information. It's simple, and to make it even simpler we added a full edit history to your family tree charts.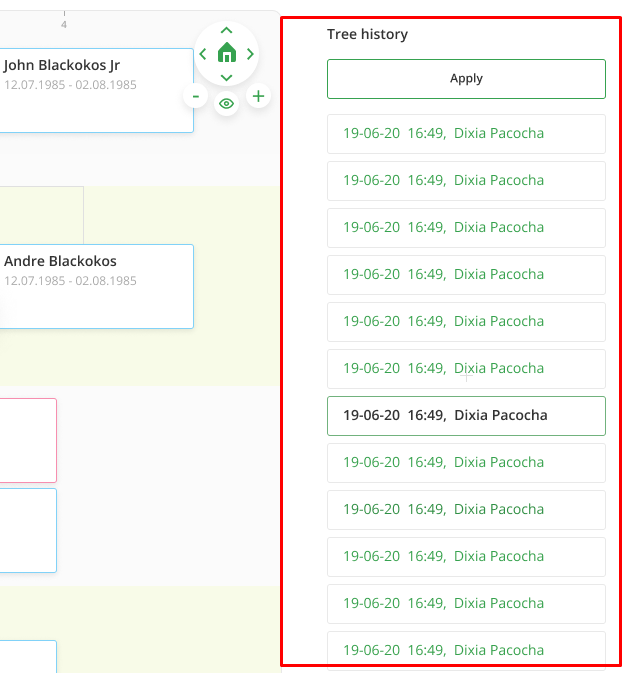 Family Tree Charts: Sibling Order
When siblings are entered with their appropriate dates of birth, they are automatically sorted by age. You can decide if the order starts from left to right or right to left. You can also choose the manual sorting option to visually sort them any way you want.
This is useful when no date of birth was entered or known, or the sibling was entered in an incorrect order.


Family Tree Chart Maker: Spouse Display
We implemented three ways of how spouses show on the chart:
1) The main couple: they are connected side by side, and the system shows the ancestors of both at once.
2) Ancestors: they are also side by side, but are not connected (they may not even be a currently married couple.
3) Descendants: the blood child will be on top and their spouse will be underneath, connected with a direct line if they are a married couple, while any former spouses will be connected with a dotted line.
This layout, especially with the descendant couples, will save a lot of space and help with easier chart viewing and more compact prints.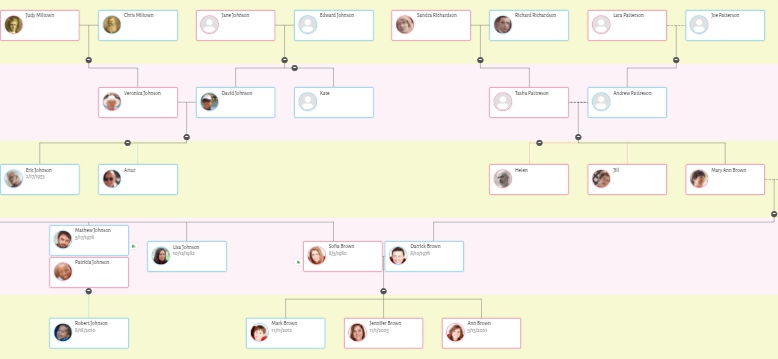 Avatar (Photo Box) Display of Family Tree Charts
Empty avatars in the chart could be disappointing, therefore we made a switch to make them disappear.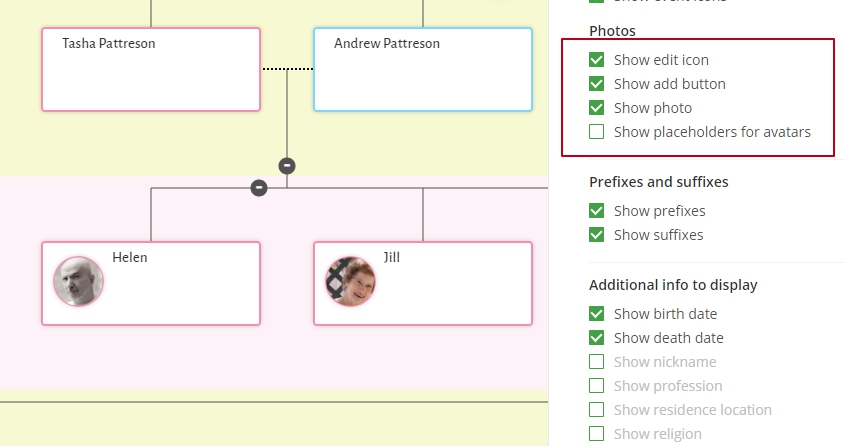 Family Tree Charts: Photo Editing
Not a Photoshop expert? We got you covered. First, you can crop, flip, turn and scale your photo, then you can connect the faces in the photo to any person in the family charts in your account, and you can write a full description of the status of where and what's of the photo, place, and date.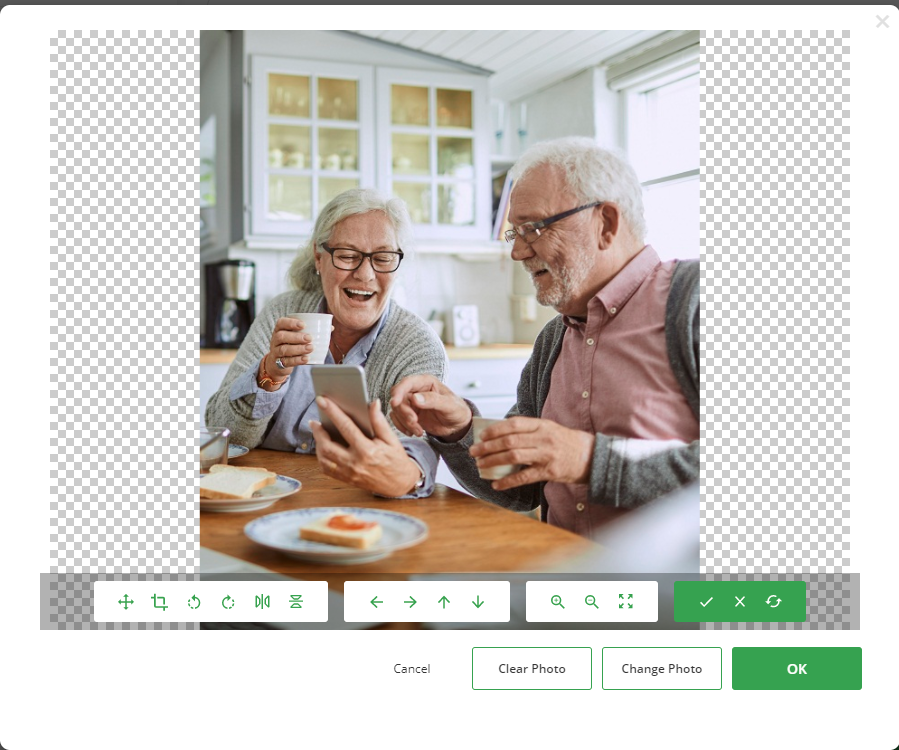 Family Tree Charts Generation Divider
Every generation has a number code indicating the number of that generation, included with the letter A to represent ancestors or the letter B to represent descendants. These codes are also used in the index to help you locate any person. The chart is also divided with a color on every second line.
You can choose any one or two colors, or use no colors at all – whatever rocks your boat, and will make your chart clearer for you and your family.
This feature of choosing colors is free for all Premium Members.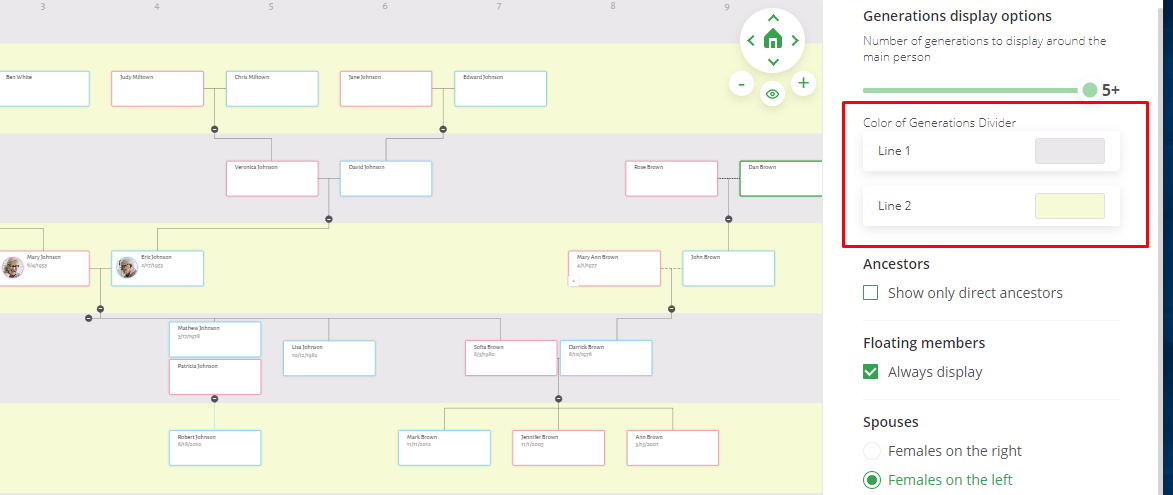 Family Tree Charts Sharing
You can share your chart with friends and family to help you with gathering the information or any other reason. We wanted to make it easy, that's why every chart has an Invite Collaborator button. Just enter the email of the person you want to share it with, and the invitation will go out with a click. Once your invitees receive the invitation they have the option to accept or decline it. If they accept, the chart will be imported into their account.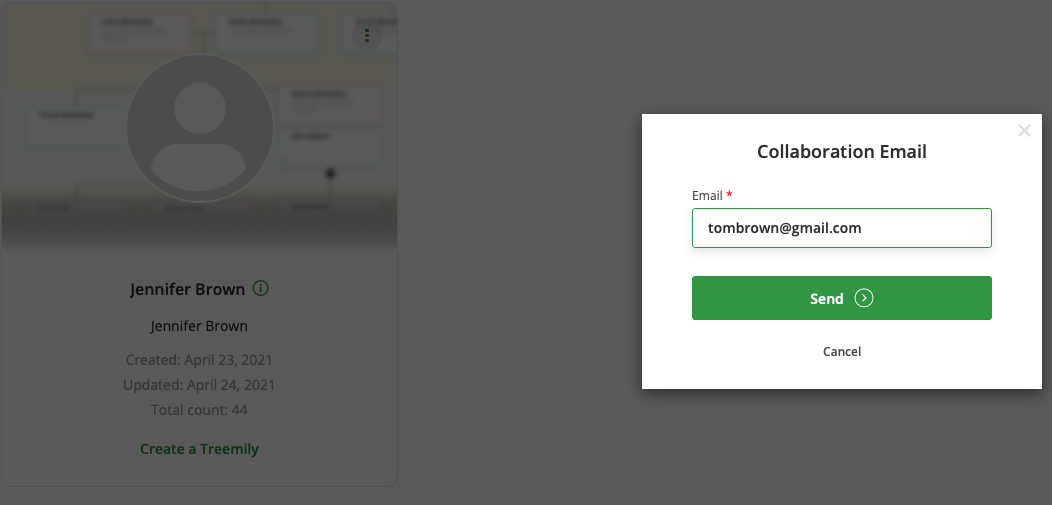 Preview Family Tree Charts Download
A watermarked preview of your tree can be downloaded for free.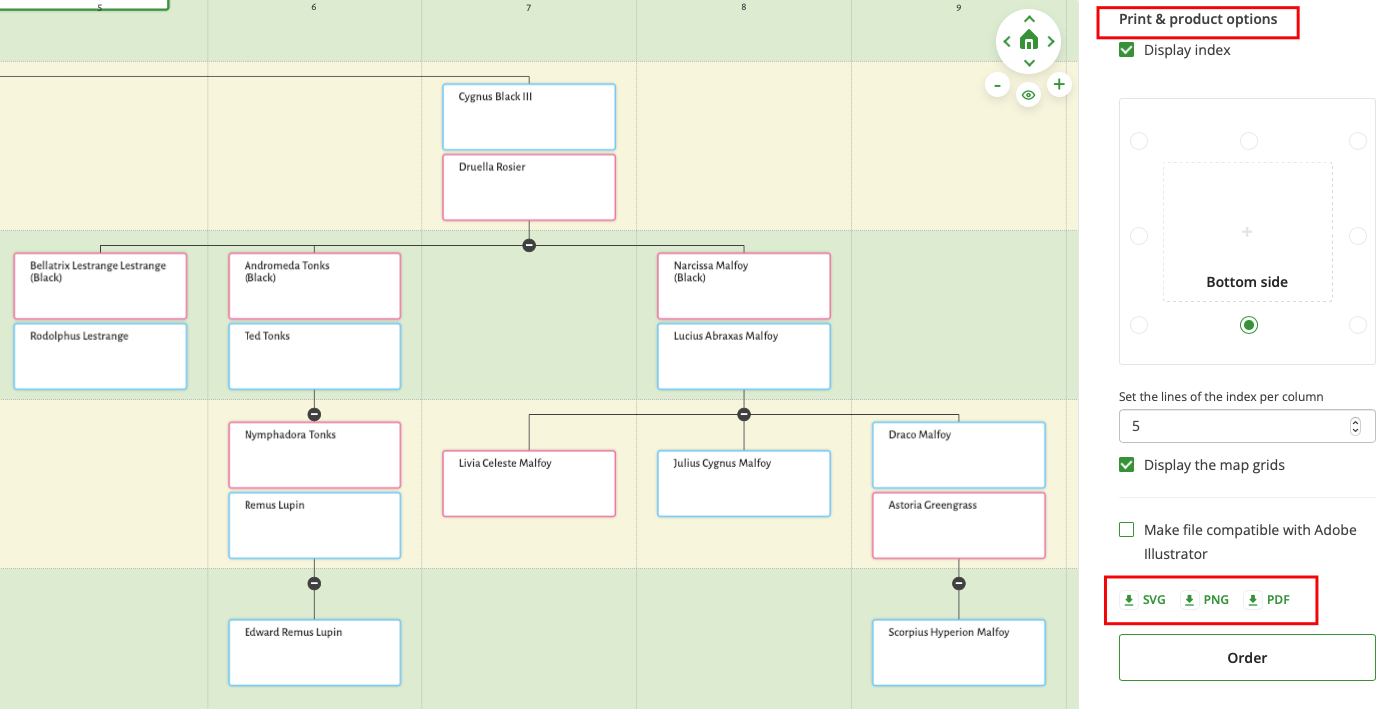 Download Family Tree Charts
Ability to download your family chart with a map, grid, and a custom index.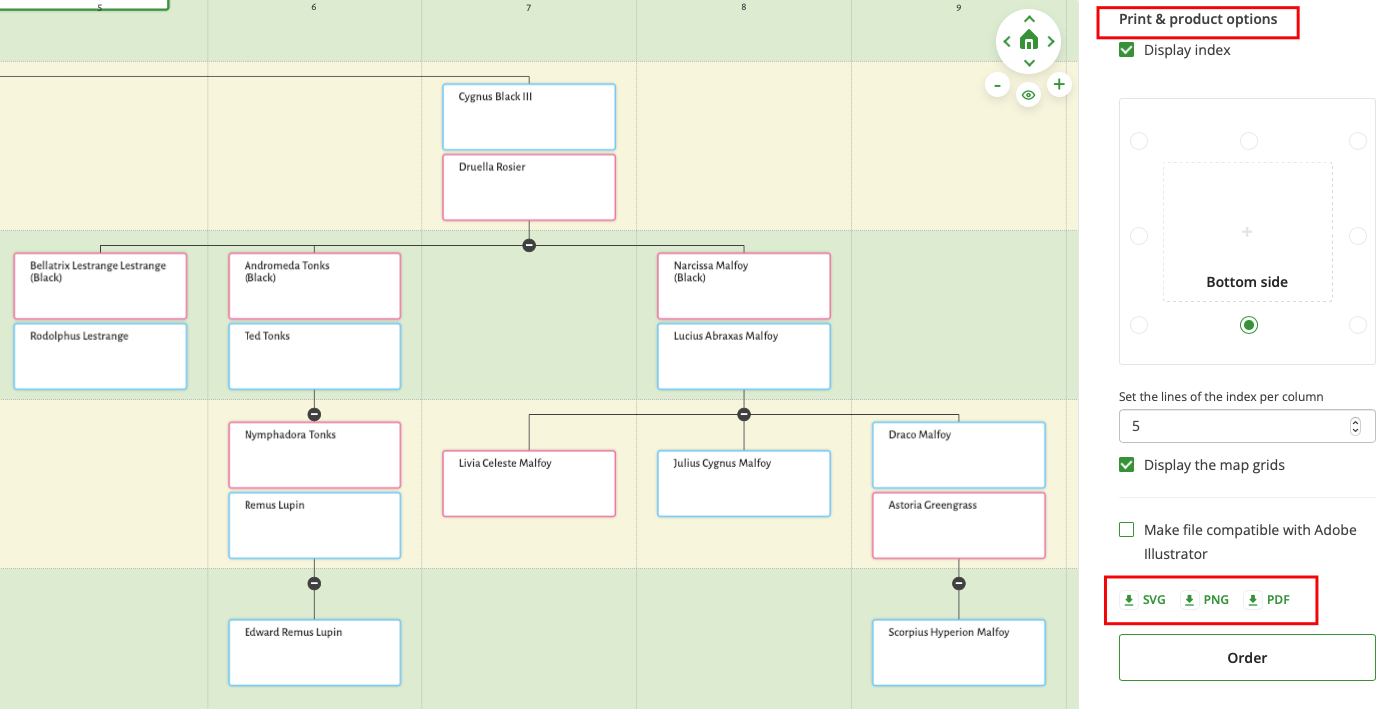 Import and export of gedcom files
Do you have an account with a different genealogy site? We got you covered. Just import your GEDCOM file with a simple upload, and you can instantly create your Treemily.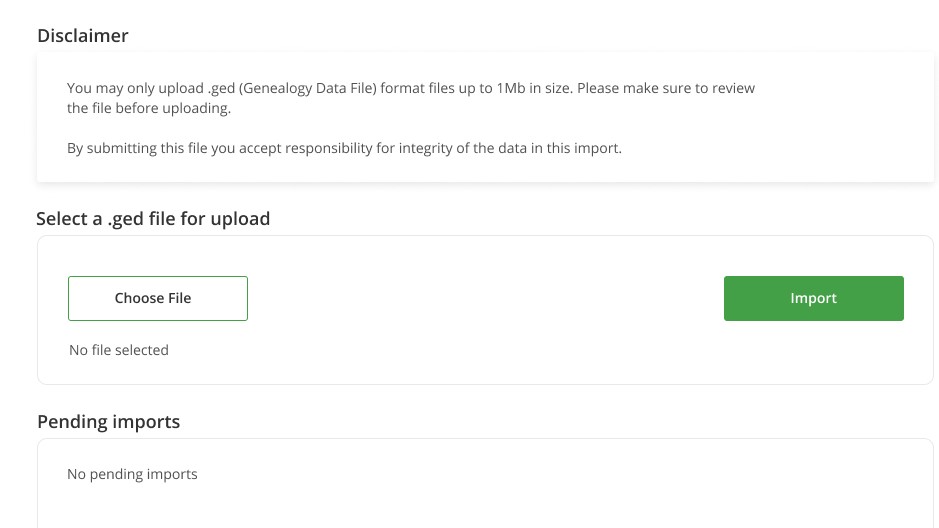 Multiple Family Tree Charts Creation
You can make as many family charts as you want in your account, giving you an opportunity to create Treemilys for friends and family. Here is to a quick and meaningful gift!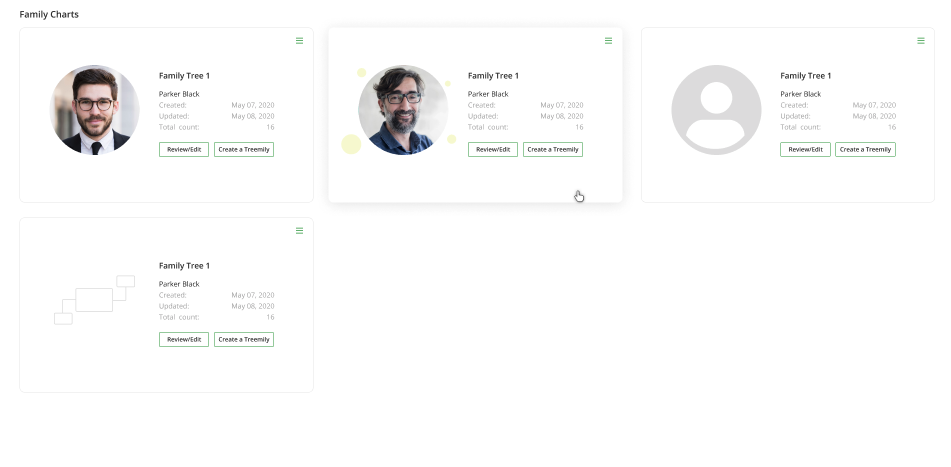 Family Tree Chart Maker Gift Certificates
Send a gift certificate to your loved ones without the hassle of finding out their genealogy information. You can select the amount that fits your budget and receive a PDF of your certificate.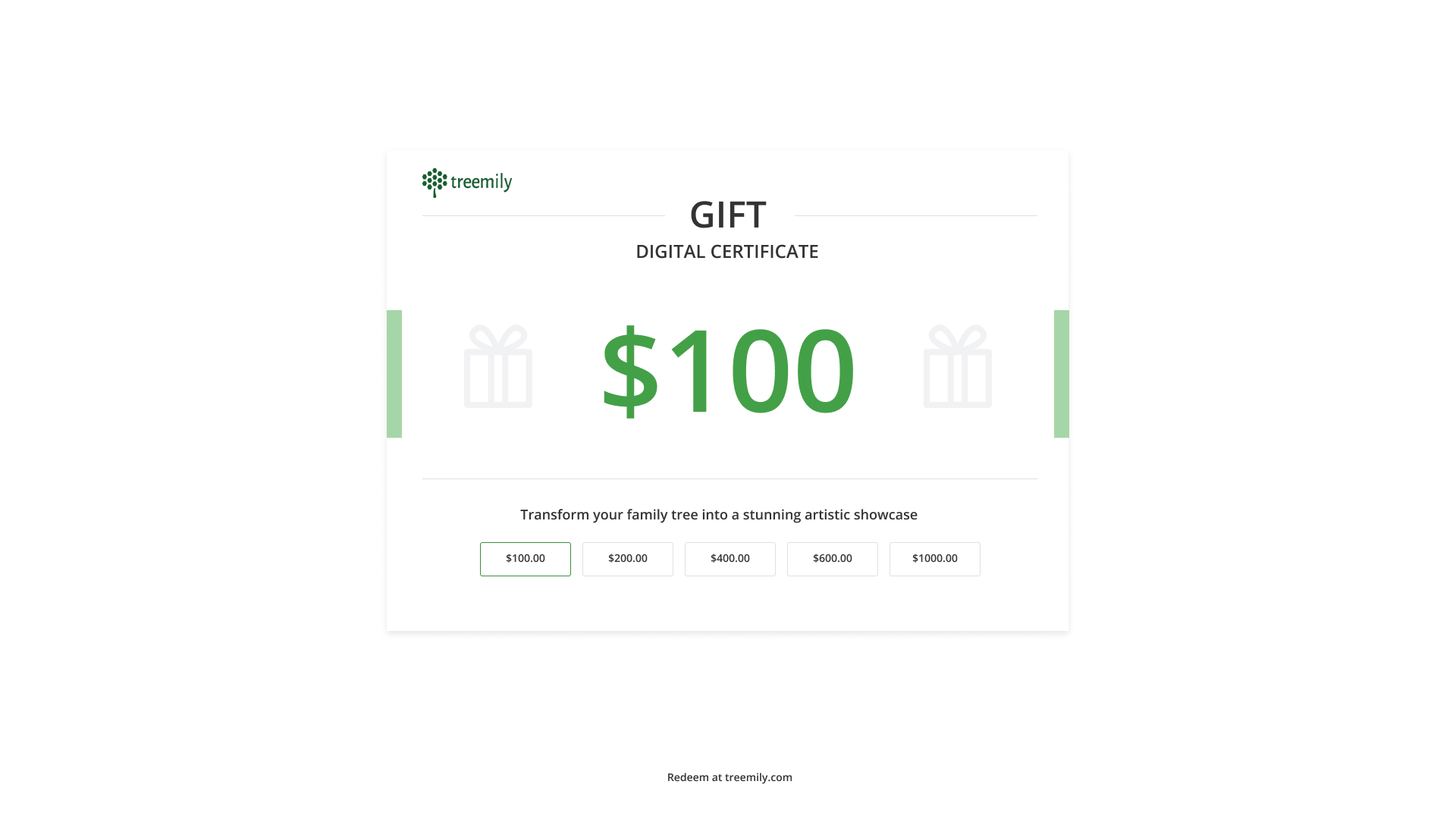 Family Tree Chart Maker: Product Choice
You can select from five different options of how you want to print your Treemily, as well as an option to digitally download a high-resolution file for your printing.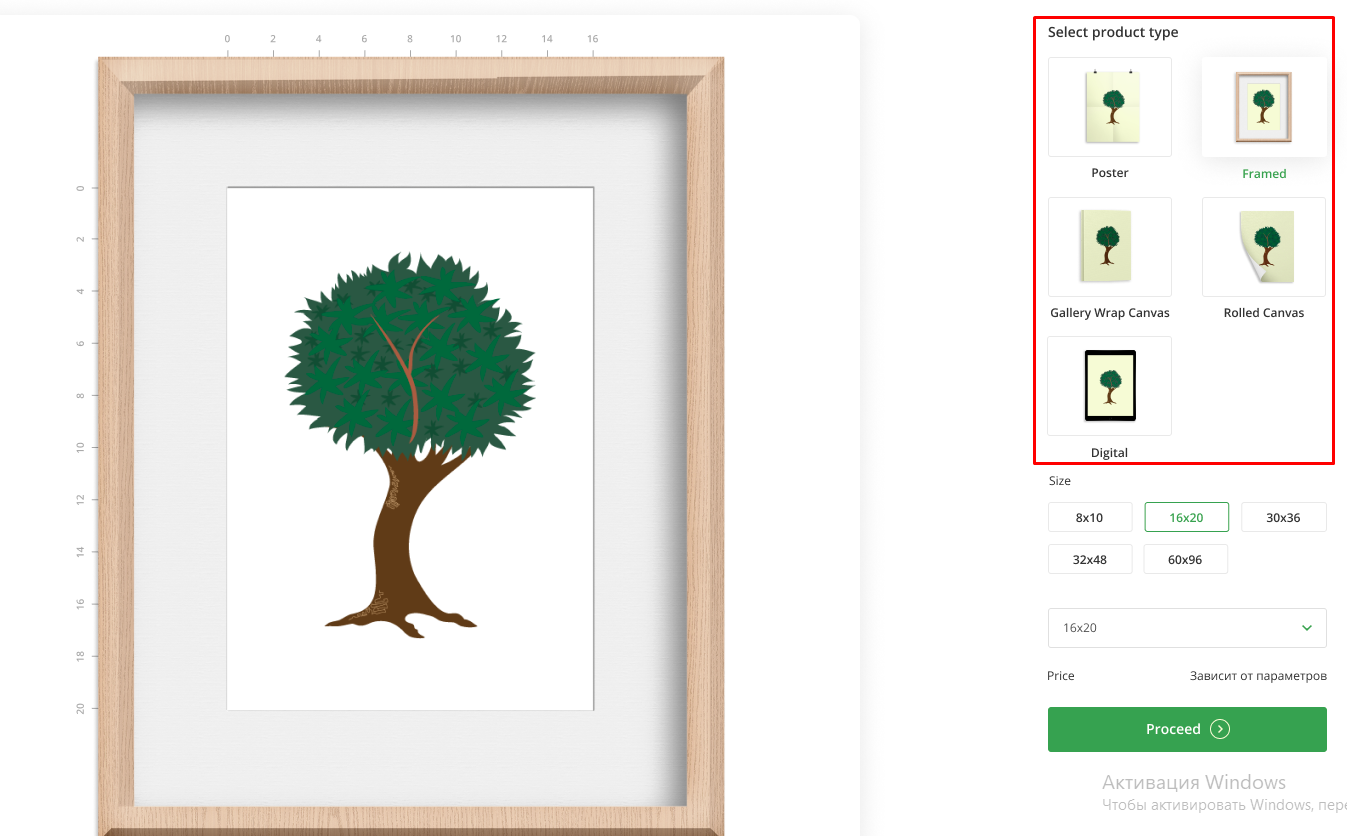 Family Tree Chart Maker: Print Sizes
User can select from a large variety of sizes, with even more sizes coming soon.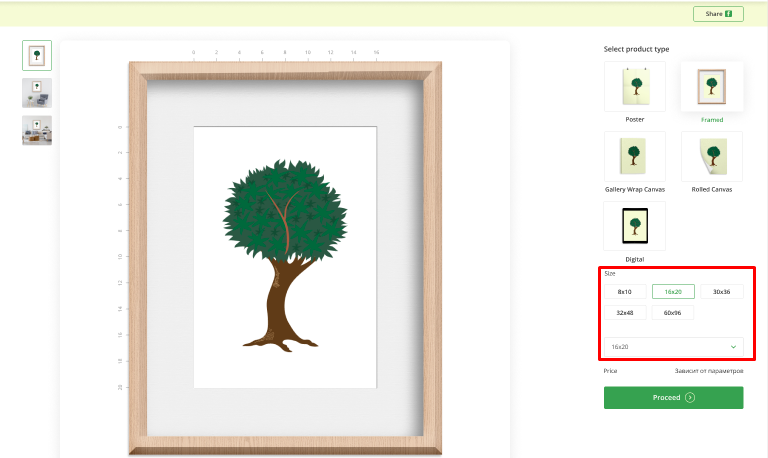 Family Tree Chart Maker Online: Custom Framing
We have over 400 styles of frames to choose from, custom cut to the size you select for your Treemily. Additionally, our sophisticated framing program lets you customize the shape and crop of your Treemily print frame, as well as choose different colors of mats and more to meet your decor needs.