Gucci Family Tree: the Members of the Family from Guccio Gucci to Current Generations
06.05.2023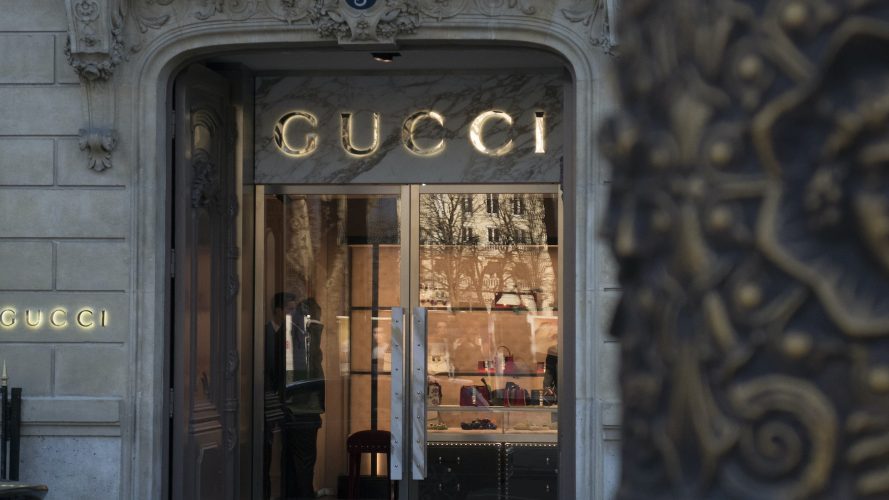 A brand that has dominated the fashion industry for about as long as anyone remembers, the Gucci family's name requires no introduction. But while many are well-acquainted with the gigantic fashion empire, most would be hard-pressed to mention even a few members of the Gucci family today. This is where the Family Tree Maker comes in handy.  
Even fewer would be familiar with the remarkable saga that is the family's history. And this is something Ridley Scott has set out to address with the movie House of Gucci – a star-studded production with a cast of A-listers who certainly do the Gucci family story justice. 
As for the characters they're playing and where they fit into the grand scheme of things? Well, that requires some knowledge of the Gucci family tree, and this is where we come in. You'll thank us later.
Gucci Family Members
The Gucci family has been in the spotlight for over a century now. This dynasty first became famous when Guccio Gucci founded the universally loved fashion brand Gucci back in 1921 (though the brand wouldn't gain its massive popularity until after his death). 

Guccio's eldest son Aldo is usually credited with the expansion of the Gucci brand, making it the powerhouse that it is today. Aldo's four children, Giorgio, Roberto, Paulo and Patricia have also contributed to the family business in one way or another – for instance, Giorgio became a designer for Gucci, while Paulo ran a factory in Florence for a short period of time. 
The Gucci family also saw some big drama: another one of Aldo's grandsons, son of Rodolpho Gucci, Maurizio, launched a legal war against his uncle Aldo to gain the majority stake in the company. Adding even more to the drama, he would later be assassinated by his ex-wife, Patrizia Reggiani out of resentment, for which she would serve 18 years in prison. 
In short, there are plenty of notable people and events to talk about, and, naturally, we're going to start with:
Guccio Gucci 
The Gucci family story begins with the Guccio Gucci family. An Italian entrepreneur was born in 1881 to Tuscan parents in Florence. His father Gabriello was a leather craftsman.
In 1901, at the age of 20, Guccio married Aida Calvelli. Aida already had a son, Ugo, born two years prior in 1899, in a previous relationship. Guccio adopted Ugo. The couple would go on to have six children, five of them boys. One of his sons, Enzo, died in 1913 aged just nine. His other sons were Vasco, Aldo, Ugo and Rodolfo.
At his death in 1953, Guccio left his company to his five sons and overlooked his daughter Grimalda.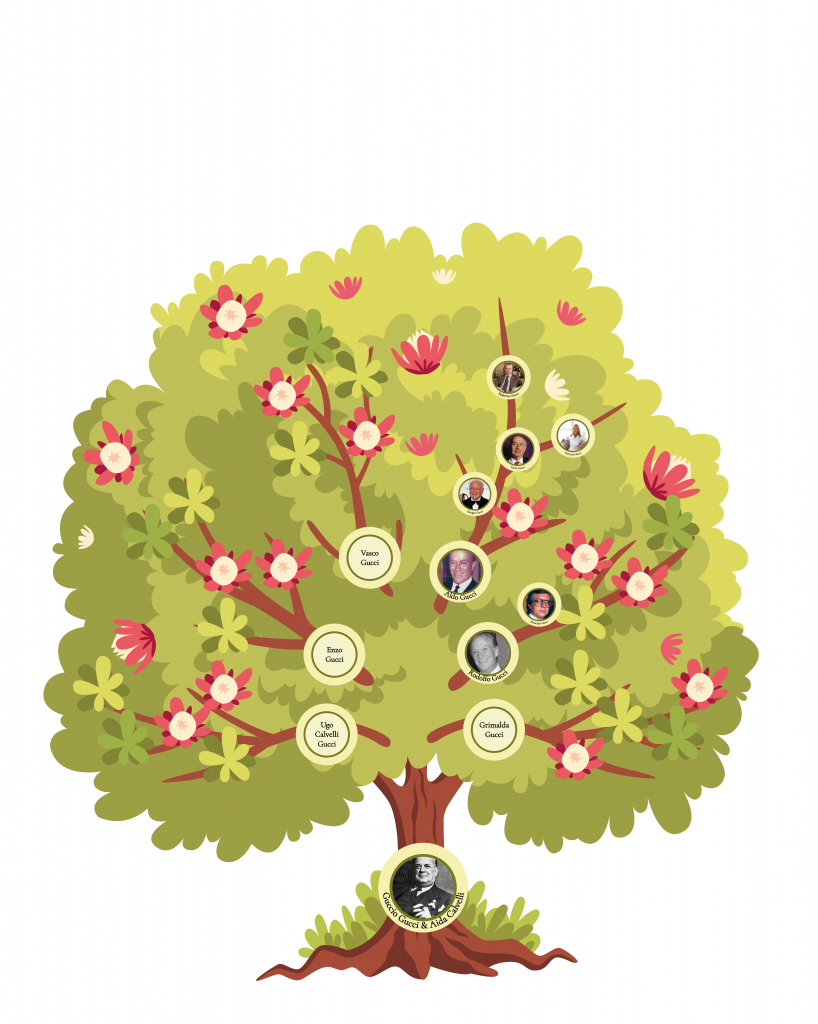 Ugo Calvelli Gucci 
Ugo Calvelli Gucci, born Ugo Pelagalli, was only two years old when his mother Aida married Guccio Gucci in 1901. Not much is known of him, but he is rumored to have been a brutish character who carried a gun, liked women, and liked to gamble. 
In 1938, Ugo married Delia Vezzosi, his girlfriend. Ugo and Delia had three children. 
Ugo is said to have played an important role in the Gucci company. It is not clear, however, what exactly this role was. When his adoptive father died in 1953, his stepbrothers worked to ensure Ugo did not have a stake in the empire. 
Ugo died in 1973.
Vasco Gucci
Apart from his place in the Gucci family tree, not much is known about Vasco. He was born in 1907, worked on production and design after Guccio passed away, and married Maria Taburchi in 1933.
Vasco and Maria did not have any children. And after Vasco died in 1974, Maria is said to have sold her inherited stake in the company to his brothers, Aldo and Rodolfo.
Aldo Gucci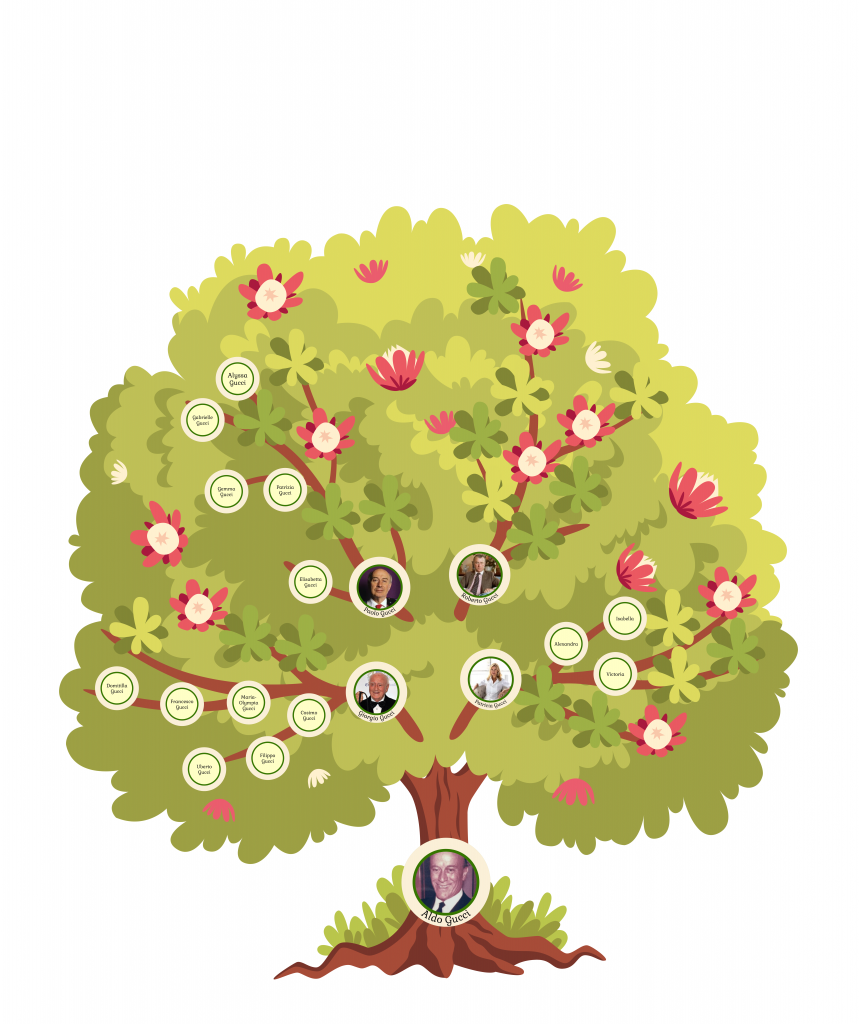 Aldo was Guccio and Aida's firstborn child and is credited with his dedication to the family brand's growth. 
Aldo was born on May 26, 1905. He started to work in his father's first shop in Florence while he was still in his teens. After completing his degree in economics at San Marco college, he committed full-time to his role in the shop and went on to open the first branch of the company's chain outside the city. He eventually presided over the entire chain, serving as chairman from 1953 to 1986.
Aldo traveled extensively in the course of his duties. Working with his brothers, the family opened several stores in the United States, starting with New York in 1952. The brand grew under his stewardship, with then President John F. Kennedy naming Aldo the Italian Ambassador to fashion.
Aldo had four children, three sons with his wife Olwen Price: Giorgio, Paolo, and Roberto. In 1963, Bruna Plambo, a woman he'd been in an affair with, bore him a daughter – Patricia. Aldo married Patricia in the United States, although he did not end his marriage with Olwen Price.
In 1986, Aldo was sentenced to a year in prison on tax evasion charges after his son Paolo was tipped off the IRS. This was after Aldo refused to let his son start his own company using the family name, threatening litigation and sparking a family feud.
Aldo sold his shares to Investcorp in 1989. A year later, he succumbed to prostate cancer, aged 84. He is interred in the family mausoleum in Florence.
Giorgio Gucci
Giorgio was Aldo's eldest son. Giorgio sought to follow in his father's footsteps and become a successful figure in the fashion industry and leave his mark on the Gucci family history. Like his father, Giorgio was interested in horses, a passion that found an outlet in many of his designs in later life. 
Giorgio's creations found considerable success. They were worn by many celebrities, including big names like Audrey Hepburn, Jackie Kennedy, Elizabeth Taylor, and Richard Burton.
Giorgio died at the age of 92 in December 2020.
Paolo Gucci
Aldo's second son Paolo was born in 1931 in Florence. Paolo gained notoriety for the feud with his father that ended with the older Gucci serving prison time in 1986 and being forced out of the company. 
Paolo was initially the chief designer of the company, rising to the position of vice-president with his father's blessing in 1978. However, two years later, he started his own company under the family name without his father's knowledge, setting off a bitter fallout with his father and uncle Rudolfo.
Paolo would eventually sell his shares to Investcorp and file for bankruptcy in 1993, two years before his death in 1995 after a long battle with chronic hepatitis.
Roberto Gucci
Roberto, Aldo's youngest son, has mostly been kept out of the spotlight. He was born in Florence in 1932 and did not get deeply entangled in the politics of the company. He played a muted role in the running of the Gucci family empire and is only credited with starting the first franchise in Belgium.
Roberto reportedly has six children with Drusilla Cafarelli: Cosimo born in 1956, Filippo a year later, Uberto in 1960, Maria-Olympia in 1963, her sister Domitilla in1964, and the youngest, Francesco in 1967. 
Patricia Gucci
Aldo Gucci's last child was Patricia, his only daughter. Patricia was born out of wedlock on March 1, 1963. Aldo met her mother Bruna Palombo when she was working in the family's first store in Rome. At that time, divorce was illegal in Italy, as was adultery. 
Patricia remained a secret love child for years. In fact, Patricia herself did not know that she had step-brothers until she was ten years old. Aldo would only marry Bruna in 1987 in the US when Patricia was already 24. He did not, however, end his marriage to his first wife Olwen Price.
At just the age of 19, Patricia became the first woman to sit on the board at Aldo's behest. This was in the midst of the bitter scandals, lawsuits, and recriminations involving Aldo's second son Paolo.
Patricia married Joseph Ruffalo, a music executive with whom she had three daughters: Alexandra, Victoria, and Isabella. Patricia and Joseph split up in 2007 amid allegations of sexual abuse on Joseph's part.
Rodolfo Gucci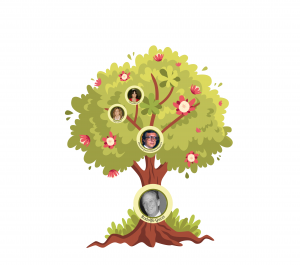 Rodolfo is the middle child that went against the grain and chose to pursue a career in acting under the stage name Maurizio D'Ancora. Over a career spanning well over a decade, Rodolfo – or Maurizio – would appear in over 40 films between 1929 and 1946.
Rudolfo later left his acting career and took a more active role in the running of the family business with his brothers Aldo and Vasco, particularly after his father's death in 1953. Upon Vasco's death in 1974, Valdo took over half of the company. However, Aldo's sons expressed their displeasure at his lack of contribution to the expansion of the family business.
Rudolfo had one son, Maurizio, from a relationship with Sandra Ravel, an Italian actress. Upon Rudolfo's death in 1983, Maurizio inherited his father's share in the company, becoming a majority shareholder.
Maurizio Gucci
Maurizio, Rudolfo's only son, was born in 1948. He came to be the majority stakeholder after his father's passing in 1983. With his newfound influence, his cousin Paolo enlisted his help in forcing his uncle Aldo out of the company. A six-year legal battle ensued which ended with him winning control of the company and becoming chairman in 1989. 
He lacked the business nous to successfully lead the company. Before long, the company was struggling financially. Maurizio ended up resigning just a few years later in 1993 and selling his stock to Investcorp. This ended the actual family of Gucci's connection to the company, with Aldo having sold his stock in 1989 to the same company.
Maurizio's life away from the company was just as turbulent. In 1972, he and Patrizia Reggiani tied the knot. They had two girls, Allegra and Alessandra. In 1985, he left Patrizia, first claiming to his wife that he was traveling to Florence on business and then having a friend inform his wife that the marriage was done and he would not be returning. 
Five years later, Maurizio started a relationship with a childhood friend, ​​Paola Franchi. They lived together for five years while divorce proceedings between Maurizio and Patrizia were ongoing. 
The divorce was completed in 1994 and they were reportedly planning to get married. But Patrizia hired an assassin who shot and killed Maurizio in 1995 just outside his office building. She was convicted of the crime and went to prison for 18 years before her release in October 2016.
Gucci Family Today
As of June 2023, some of the notable Gucci family members still alive are Patricia Gucci, Aldo's only daughter; as well as Alessandra and Allegra Gucci, the children of the infamous couple of Maurizio Gucci and Patrizia Reggiani. On top of that, the deceased Aldo has at least 9 living grandchildren, but not most of them prefer to stay out of the public light and there isn't much known about them. 
Patricia Gucci (b. 1963) is currently the creative director of a travel lifestyle company called Aviteur that she herself founded in 2018. She's also a mother to three daughters – Alexandra, Isabella, and Victoria.
Patrizia Reggiani (b. 1948) is an ex-wife of Maurizio Gucci who was infamously assassinated on her orders in 1995. For that, she was sentenced to 26 years in person, but served only 18 – in 2016, Patrizia was released on parole. Now she's believed to be enjoying a private, albeit wealthy lifestyle – she still gets a yearly paycheck of $1.2 million from Maurizio's estate, which was part of the pre-assassination divorce settlement.
Alessandra and Allegra are Patrizia's daughters that are known to have supported their criminal mother all the time she was in prison. They're believed to live in Switzerland, and also enjoy considerable wealth passed down from their ancestors.
Conclusion
As far as famous family trees go, there are few as storied and riveting as this iconic family's. The Gucci family history features everything you would expect to see in a Hollywood epic – tragedy, power, incredible wealth, and acrimonious scandals. The Gucci family today remains one of the most well-known – an icon that represents sophistication, elegance, and refinement.
FAQ
Who founded Gucci and when?
Gucci was founded by Guccio Gucci in 1921, in Florence, Italy.  The Italian entrepreneur and fashion designer first started the company as a small manufacturer of luggage and leather products. Overtime, his sons took over the family business and propelled it to the heights of global success.
Where is the Gucci family from?
The Gucci family comes from Florence, Tuscany in Italy. Interestingly enough, Florence itself has a long history of influence on art, culture, and fashion, which might be considered an important part of the success of the Gucci brand.
Who are the key members of the Gucci family?
Guccio Gucci, the founder of Gucci, as well as his sons and grandsons Aldo, Giorgio, Roberto, Paulo and Maurizio are some of the key members of the Gucci family. All of them, in different parts, was instrumental in building the Gucci brand and making it a major player in the world of fashion.
Who are the current Gucci family members involved in the business?
The Gucci family members are not currently working in the day-to-day management of the Gucci company. In the 1990s, following a legal fight amongst the family members, the Guccis surrendered their ownership of the business to a French luxury goods corporation Kering.
What were the major Gucci family feuds?
In the 1980s, Aldo Gucci and his nephew Maurizio Gucci got into a famous legal fight over the ownership of the corporation. Because of that, the Gucci family ultimately lost control of the company and had to sell it to outside investors. Another conflict in the family resulted in an actual death – in 1995, Maurizio Gucci was assassinated on the orders of his ex-wife Patrizia.
Who owns Gucci now?
Gucci is currently owned by a French luxury goods firm Kering. Kering bought Gucci after the Gucci family sold their ownership of the business in the 1990s. However, the fact that Gucci was no longer the property of the family, didn't deteriorate the brand. Kering's reputation for great management of high-end fashion brands has ensured Gucci's continued success