This prominent American family has Irish roots and gave birth to many influential American politicians, public servants, and businesspeople. The first representative of the Kennedy family elected to a public post was Patrick Joseph "P. J." Kennedy, 35 years after the family moved to America.
The Kennedy family history definitely deserves particular attention, so let's take a closer look at their origin and family tree.
Kennedy Family Tree
Patrick Joseph Kennedy was a politician and businessman. He was an eminent member of the Democratic Party. The Kennedy family was very religious and actively took part in the life of the Irish Catholic community. He was appointed the first chairperson of the U.S. Securities and Exchange Commission and later headed the Maritime Commission. During 1838-1940 he served as an ambassador to the United Kingdom.
In October 1914, he married Rose Elizabeth Fitzgerald, the daughter of the mayor of Boston. In fact, this marriage united the two most influential political families of the Massachusetts state. This union was one of the reasons, why till this day, some people refer to the Kennedy family as a US royalty.
Rose Elizabeth Fitzgerald Kennedy was a philanthropist and socialite. She came from a religious family and was extremely loyal to the Irish Catholic community as well. She was even granted a Papal countess title by Pope Pius XII and became the sixth woman in America to be given such a high rank. Rose and Joseph had nine children.
Joseph Patrick Kennedy Jr.
Joseph was the eldest child in the Kennedy family. He left before his final year of law school at Harvard to enlist in the Naval Reserve and become a naval aviator during the Second World War. His dad and granddad expected him to become the first Catholic president in the USA. However, their dreams never came true because Joe Jr. was killed in 1944 while accomplishing a mission.
John Fitzgerald Kennedy
After the death of the eldest son, father's great expectations fell upon Joe's younger brother John, who later became the 35th U.S. president. Before he became a president, John represented Massachusetts in the U.S. House of Representatives and Senate.
His presidency service was during the Cold War and the majority of his term was aimed at managing relations between the US and Soviet Union. In 1953 he married Jacqueline Lee Bouvier, a year after he was elected senator.
However, this Kennedy family was faced with a great deal of misfortune. The couple had two children, Caroline, and John Fitzgerald Kennedy Jr. Besides that, Jacqueline had a miscarriage in 1955 and a stillbirth in 1956, while in 1963, their newborn son, Patrick, passed away after 2 days due to complications from birth.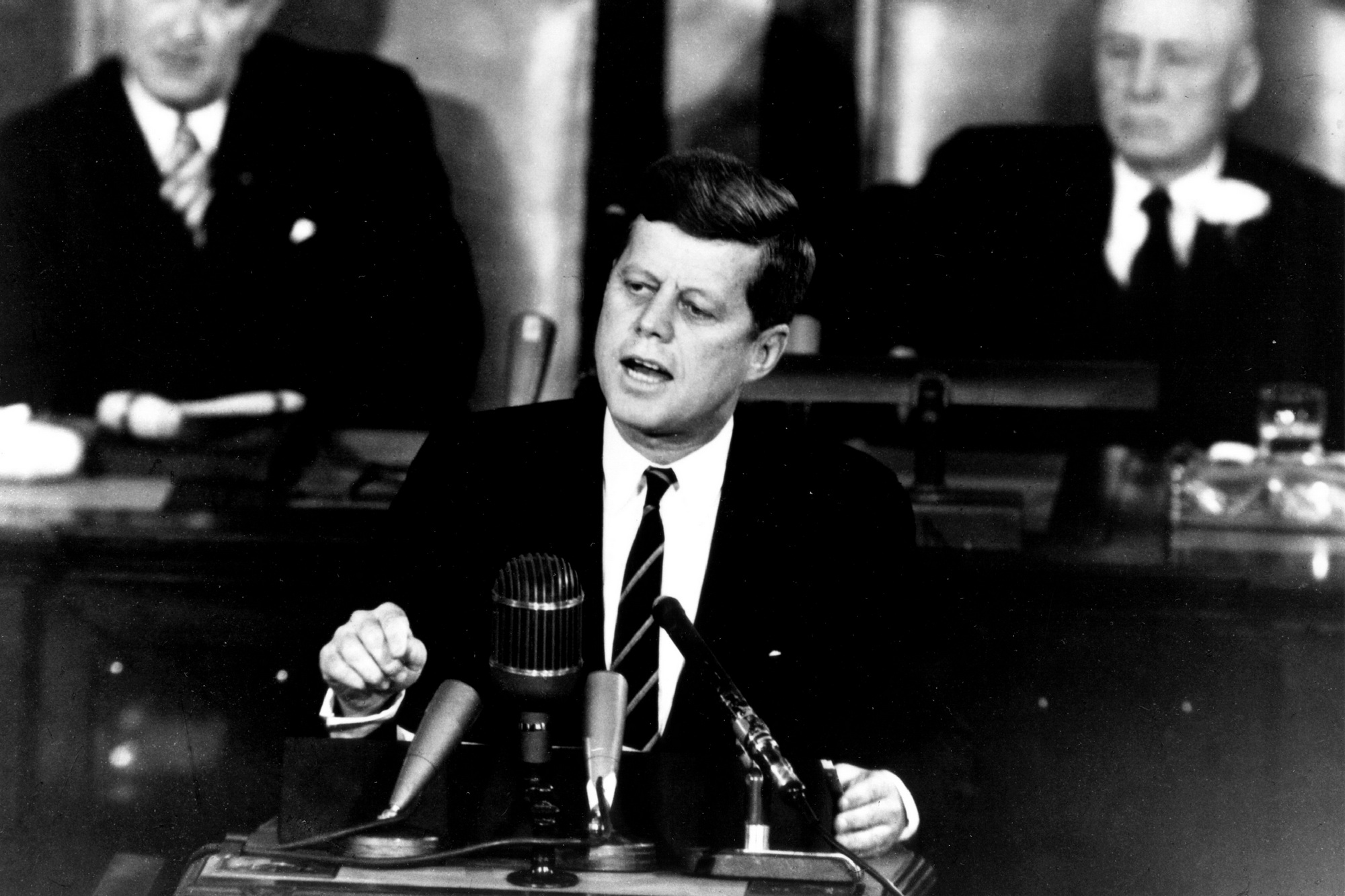 Rosemary Kennedy
Rosemary was the eldest daughter in the Kennedy family. During the maturing period, Rosemary was increasingly assertive, rebellious and prone to violent mood swings. It was difficult for her parents to deal with the girl's reckless behavior and stormy moods so they decided to resort to lobotomy. However, the surgery wasn't successful and the girl's mental capacity diminished. She couldn't speak or walk intelligibly for the rest of her life.
Kathleen Agnes Kennedy
Kathleen was a socialite and became a debutante in 1938 in the United Kingdom while her father was serving as an ambassador there. During her work in the Red Cross, she was dating Lord Hartington and in 1944 they got married. However, 4 months later, Lord Hartington was killed while participating in a mission in Belgium. Kathleen died in an air crash in 1948.
Eunice Mary Kennedy Shriver
She served at the United States Department of Justice War Division and a number of other federal institutions, including the Chicago Juvenile Court and the women's shelter. She was the only woman to have her portrait appear on a U.S. coin while still living.
In 1995 she took part in the Special Olympics movement nationalization. She also established the National Institute of Child Health and Human Development and helped to establish many other universities, health-care and government initiatives throughout the United States. She got married to Robert Sargent Shriver Jr. in 1953 and had five children.
Patricia Kennedy Lawford
She was considered the most worldly of all Kennedy daughters and her father said she was the one with the head for business. Patricia Pat dreamt of becoming a film producer; however, this profession was beyond the reach of women in the very conservative 1950s.
In 1946, she became the producer of a cooking program called I Love to Eat. In 1954, she married British actor Peter Lawford, but they divorced in 1966. She collaborated with John F. Kennedy Presidential Library and Museum and established the National Committee for the Literary Arts.
Robert Francis Kennedy
Robert F. Kennedy received a law degree and built a political career. He served as the 64th U.S. Attorney General and as a U.S. Senator from New York until his murder in 1968. Just like his elder brothers, Robert was an eminent member of the Democratic Party and was considered an icon of liberalism in America by many historians. In 1950, he married a socialite Ethel Skakel. The couple had 11 children.
Jean Ann Kennedy Smith
She served as a U.S. Ambassador to Ireland during the 1990s. She founded a not-for-profit organization on arts and disability dedicated to promoting a society where people can be engaged in art. In 2011, she was awarded the Presidential Medal of Freedom for her contribution to helping people with disabilities.
She won a number of other awards for her work with disabled people. She got married to a financial analyst Stephen Edward Smith in 1956 and had 4 children, of whom two were adopted.
Edward Moore Kennedy
He started serving in the Senate at the age of 30 and proceeded to work in Congress throughout his life. He was an eminent figure in liberal politics in general and in the Democratic Party in particular. Despite the scandal in 1969 marked by the death of his automobile passenger, Edward Moore Kennedy came to embody liberal thought and political progressivism.
The Kennedy family history is truly exciting, even today they remain one of the most prominent families in the United States. Remember that your family history can be no less exciting! With our family tree builder, you can create a stunning visualization of your family ancestry and share it with the world. Dive into the exciting world of ancestry research with Treemily!