Martin Luther King Jr.: Biography, Family Tree, and Ancestry
01.18.2021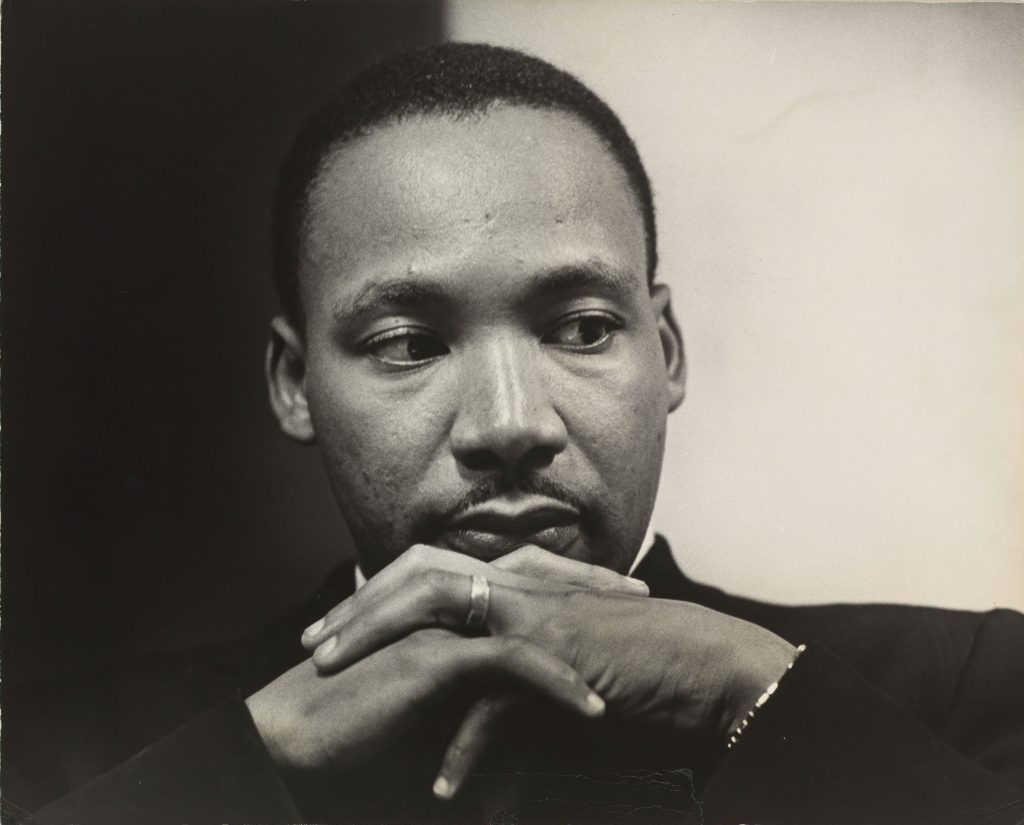 As we celebrate Martin Luther King Day every third Monday of January, this year we will honour the life of the leader of the civil rights movement on January 16. We decided to make quick genealogical research to tell you more about one of the greatest activists in the history of the US. 
Early Life
Michael King Jr. was born in Atlanta, GA on January 15, 1929, to a reverend and a teacher and was the second child in a family. Later, Michael changed his name to Martin Luther. Martin was raised in a religious environment and was reading the Bible and told stories by his grandmother. 
In 1935, Martin started attending Younge Street Elementary School, a school for black children only, and changed his school for the Atlanta University Laboratory School 5 years later. At the time, the problem of racism in the US was not that widely raised and discussed as it is now. It is also known that Martin became friends with a white boy but the boy's parents forbidden their son to play with Martin due to his skin color. King's father was always against segregation and any type of discrimination and Martin has learned a lot from him. 
By the age of 13, King got a job in the Atlanta Journal newspaper delivery station and became an assistant manager. At the time, he studied at the only high school for African American students in Atlanta that was created by the city government only due to the activism of King's father and other local leaders of the African American community. This is when Martin began improving his orator and public speaking skills. In 1948, he graduated from Morehouse College with a Bachelor of Arts degree in sociology. He also later attended Boston University and Harvard University 
Martin's activism began from his membership in the Birmingham African-American community when he was selected as one of the representatives for the committee on the "Montgomery bus boycott" case. As a result, King became one of the best-known spokespersons of the civil rights movement. By that time, he also became pastor of the Dexter Avenue Baptist Church. 
In 1957, King became the president of the Southern Christian Leadership Conference and for the next 11 years has been attending thousands of demonstrations and giving over two hundred speeches across the US. He also published five books and numerous articles related to civil rights and the problem of racism. According to the records, King was arrested at least 25 times and assaulted 4 times for his actions. In 1963, Time magazine named King the Man of the Year and on October 14, 1964, he won the Nobel Peace Prize for combating racial inequality. Four years later, on April 4, Martin Luther King Jr. was assassinated by James Earl Ray who was then sentenced to 99 years in prison. 
Martin Luther King Jr. Day (MLK Day)
Also officially known as the Birthday of Martin Luther King Jr., MLK Day is celebrated every third Monday of January. The idea of accepting MLK Day as a holiday was introduced by labor unions in 1979 when the first bull related to this question was introduced to Congress. However, at the time the bill didn't pass. The holiday was signed into law by President Ronald Reagan and became an official federal holiday only in 1983. However, not all of the states have accepted this holiday in the beginning. All 50 states observed MLK Day 17 years later, in 2000. 
Parents
Martin's father, Michael King (later known as Martin Luther King Sr.) was born in Stockbridge, GA on December 19, 1899. He was a Baptist pastor and met his future wife Alberta while attending the Ebenezer Baptist Church. King's mother, Alberta Christine Williams King was born in Atlanta, GA on September 13, 1904. She worked as a teacher before getting married in 1926. Together the couple had three children including Martin's older sister Willie Christine King Farris and a younger brother Alfred Daniel "A.D." King. Alberta helped her husband with the affairs in the Ebenezer Baptist Church when he became the leader of the church. In 1974, Alberta was shot and killed by the extremist Marcus Wayne Chenault during Sunday service. You may have a look at the Martin Luther King Jr. family tree that was created with the Treemily family tree generator.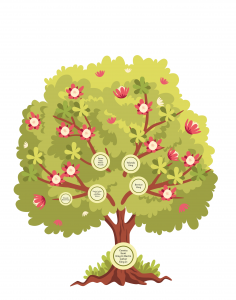 Grandparents
Paternal Line
King's grandfather, James Albert King was born in Ohio in December 1864 and was of African and Irish descent. He married King's grandmother Delia Linsey (born in Henry County, GA in July 1875) in 1895. They both were sharecroppers and later moved together to Stockbridge, GA where their son Michael and their other eight kids were born. James and Delia died in 1933 and 1924, respectively. 
Maternal Line
King's grandfather, Reverend Adam Daniel Williams was born in Penfield, GA on January 2, 1863. He was a preacher at the Ebenezer Baptist Church in Atlanta where his future son-in-law replaced him after Adam's death in 1931. King's grandmother, Jennie Celeste Williams (née Parks) was born in Atlanta, GA in April 1873. The couple got married in 1899. Adam and Jennie both died in Atlanta in 1931 and 1941, respectively.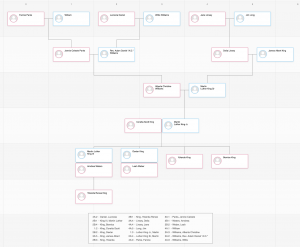 Marriage and Kids
Martin met his future wife Coretta Scott while attending Boston University. Coretta was born in Marion, Alabama on April 27, 1927, to Obadiah and Bernice McMurry Scott. Martin and Coretta got married in Coretta's parents' house on June 18, 1953. Together they had 4 children: Yolanda King, Martin Luther King III, Dexter Scott King, and Bernice King. King's only granddaughter, Yolanda Renee King was born to Martin Luther King III and his wife Arndrea Waters on May 25, 2008.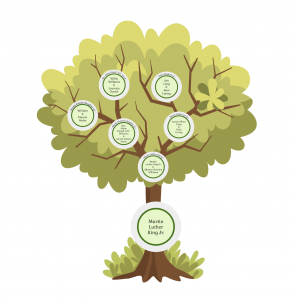 Final Thoughts
Without a doubt, Martin Luther King Jr. will always be remembered as one of the greatest leaders of the Civil Right Movement who put his life for making African-Americans lives better. His tactics of nonviolent protests proved that every community's goals and success can be reached without the use of weapons or through pain and deaths. The Treemily team hopes that no violence will be used against any people and the entire world can live in peace.