His Highness Sheikh Khalifa bin Zayed Al Nahyan Family Tree
05.24.2022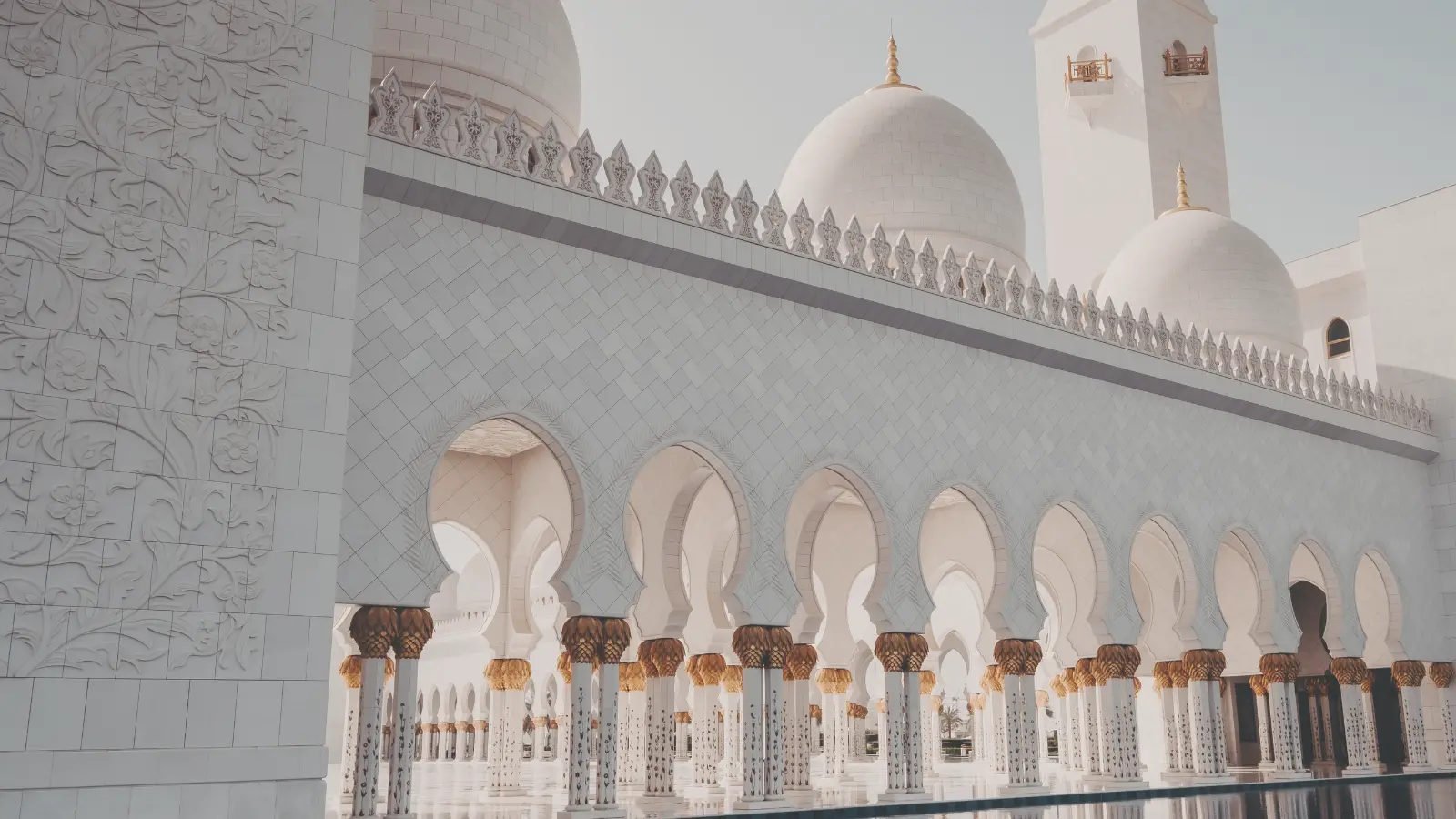 We've all heard of Dubai, the land where everything is described in superlatives. Many of us know it is an emirate – a land under an emir, in much the same way a kingdom has a king. Quite a few that know this also mistake it for the capital of the UAE, the United Arab Emirates. It is the most populous emirate, but not the capital. 
That would be Abu Dhabi. If you're a bit of a geography buff, you'll know Abu Dhabi is the largest of the seven emirates by quite a margin. This important emirate's ruling family? That's probably well into difficult TV trivia quiz territory. That's where this article comes in.
But first, a bit of an introduction before we dive into Sheikh Khalifa's Family Tree.
The House of Nahyan: The History
The House of Nahyan rules Abu Dhabi. This family is part of the Al Falahi family, which in turn is connected to the Bani Yas tribe. This tribe has ruled Abu Dhabi since the late 1700s, and before that, a territory called the Liwa Oasis. In a period spanning almost two hundred years, the region saw turbulent times, with 13 coups deposing five rulers and killing eight. A bloodless coup in 1966 ushered in a new era. The United Arab Emirates was formed in large part with the help of the efforts of Sheikh Zayed, who became the first president. This is where we start.
Zayed bin Sultan Al Nahyan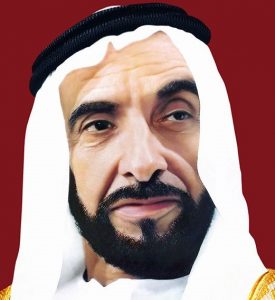 Sheikh Zayed was born on the 6th of May, 1918. His father was Sheikh Sultan, Abu Dhabi's ruler at the time. However, Zayed's father would only rule Abu Dhabi for only four years starting in 1922. His rule ended with his death at the hands of his half-brother, Zayed's uncle, in 1926. Zayed's uncle would in turn only hold power from 1926 to 1928 before he himself was killed and succeeded by Zayed's elder brother, Shakhbut. 
However, during the course of four years of exports of newly discovered oil, family members grew disgruntled with a lack of development. They ended up enlisting British assistance in deposing the leader and replacing him with Zayed. Zayed's subsequent reign saw the union of the emirates into a federation, many international diplomatic initiatives, and rapid development.
Sheikh Zayed died on the second of November, 2004 aged 86, after struggling with diabetes and kidney problems.
Hassa bint Mohammed bin Khalifa Al Nahyan
Sheikha Hassa was Sheikh Zayed's first wife. Her father was Sheikh Zayed's first cousin, as was her mother. She was born on the 17th of June, 1922 and died on the 28th of January, 2018.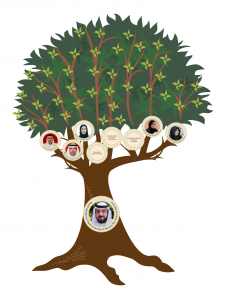 Sheikh Khalifa bin Zayed Al Nahyan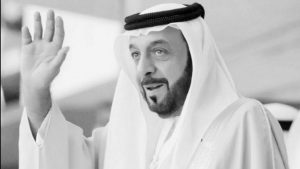 Sheikh Zayed bin Sultan Al Nahyan's first son was Sheikh Khalifa. He was born on the 7th of September, 1948 and became the crown prince when his father assumed power. He was therefore prepared for his future role from an early age. He took on some presidential tasks as his ailing father struggled with his health in the 90s. He eventually assumed power with his father's passing in 2004. He set about diversifying Abu Dhabi's economy in a push to reduce its dependence on oil, even helping Dubai with a multi-billion dollar bailout during the 200-09 financial crisis. He was named by Forbes in its 2018 list of the world's most powerful people, a fact perhaps well-illustrated by the fact that the world's tallest building at the time of writing – the Burj Khalifa – is named after him. Sheikh Khalifa died in 2022 and was succeeded by his brother Mohamed. He had in any case kept a lower profile in politics following a stroke in 2014.
Shamsa bint Suhail Al Mazrouei
Sheikh Khalifa's wife was Sheikha Shamsa bint Suhail Al Mazrouei. Little is known about her, and even their marriage date is unclear. What is known is that they had eight children in a marriage spanning close to five decades.
Sultan bin Khalifa Al Nahyan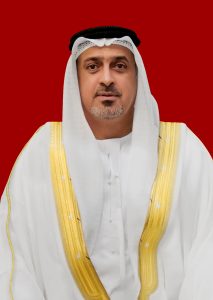 Sultan is Sheikh Khalifa's first born son. He was born in 1965, is extensively educated, holding, among other qualifications, a master's degree in political science from the University of Salford, and two PhDs. He served as an advisor to Sheikh Khalifa during his reign and serves on the board of the Executive Council of Abu Dhabi.
Mohammed bin Khalifa bin Zayed Al Nahyan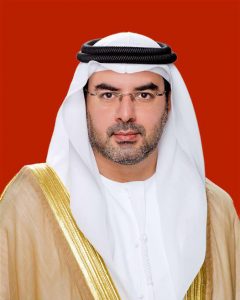 Sheikh Mohammed is Sheikh Khalifa's second son. He was born in 1972 in Abu Dhabi, and, like his elder brother, is also on the Executive Council of Abu Dhabi. Sheikh Mohammed holds a position as one of the directors on the board of the Abu Dhabi Investment Authority, and has served as the Abu Dhabi Retirement Pensions and Benefits Fund's chairman since 2009.
Shamma bint Khalifa bin Zayed Al Nahyan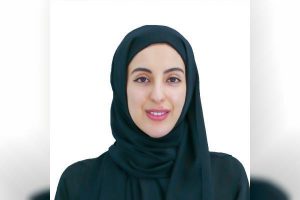 Shamma is one of Sheikh Khalifa's six daughters. She graduated from Cambridge University and has a Masters degree in Sustainability Leadership. She heads an organisation called Alliances for Global Sustainability and is involved in projects related to the environment and development including serving as a member of the board of advisors of the Yale Centre for Environmental Law and Policy. 
Mouza bint Zayed Al Nahyan
Mouza is another of Sheikh Khalifa's daughters. Information about her personal life is scant and little is publicly known about her marital status and other details.
Osha bint Khalifa bin Zayed Al Nahyan
Like her sister Mouza, personal information about Sheikh Khalifa's daughter is kept away from the public eye, and as a result, not much is known about her either. 
Sheikha bint Khalifa bin Zayed Al Nahyan
Sheikha is Sheikh Khalifa's fourth daughter. Like her sisters, she too shies away from the spotlight and keeps her life private.
Salama bint Khalifa bin Zayed Al Nahyan
Sheikh Khalifa's fifth daughter, Salama, does not have any publicly available information about her.
Lateefa bint Khalifa bin Zayed Al Nahyan
Lateefa is the last born of Sheikh Khalifa's eight children, like all her sisters, save for Shamma, not much is known about her life.

Conclusion
The Al Nahyan family has ruled the UAE for decades. With the passing of Sheikh Khalifa, one of their most influential leaders since the founding president, Sheikh Zayed, the oil-rich country and its ruling family have entered a new era in their history – a history to which this family tree is integral.