4 Family Trees of The Sopranos
06.05.2023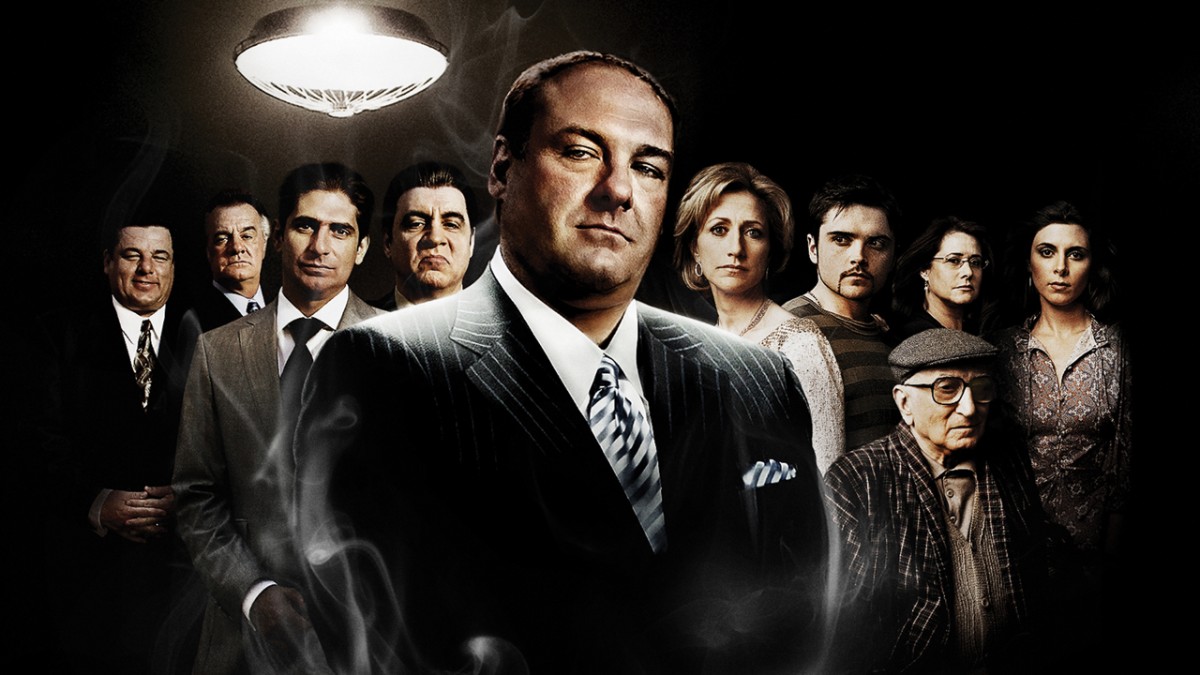 In all the mafia stories we've been entertained by over the years, the concept of family is a constantly recurring theme. The Sopranos, a much-loved, multi-award-winning HBO crime drama series, is no different. The show follows an Italian-American family based in New Jersey as they navigate the politics, scandal and betrayal of organized crime in the underbelly of the city. With the show leaning heavily towards this side of the story, we are often left to figure out the actual familial relationships between the characters for ourselves. 
In this article, we take a look at the four families within the larger Soprano crime family tree to help you appreciate a well-crafted story even more. If you haven't seen the show yet, this is your spoiler alert. 
All family trees in this article were created in Treemily's family tree builder.
The Plot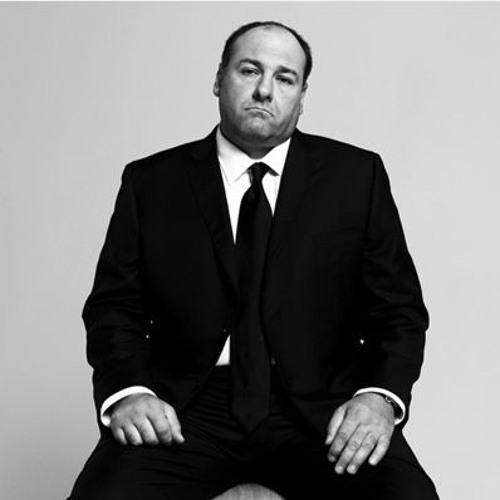 The man at the center of the Soprano family is the main character of the show, Tony Soprano. Tony starts out as the number two acting boss in the DiMeo crime family while its leader, Ercole DiMeo, is serving a life sentence. 
Tony is the number two acting boss – the interim – while the acting boss himself, Giacomo "Jackie" Aprile, struggles with health issues. If you're wondering who the actual boss is, that would be Corrado "Junior" Soprano – Tony's uncle. However, Corrado holds no real controlling influence over matters in the family. 
So when Jackie eventually succumbs to his failing health, Tony gets promoted to acting boss. He effectively assumes control and wields most of the influence.
Tony's wife is Carmela DeAngelis. A lot of the show follows Tony's struggle to successfully tread the fine line between efficiently running a crime organization and fulfilling his duties to his own family – his actual wife and children. 
Okay, that's quite a lot of name-dropping we've done there. So let's tie this all together, family by family.
The Soprano Family Tree
The Soprano family tree starts with Tony's paternal grandparents, Corrado Soprano and Mariangel D'Agostino. They had three children: Ercoli "Eckley", Corrado "Junior" (remember the ineffective boss?), and Tony's father – Giovanni "Johnny Boy" Soprano.
Giovanni Soprano married a certain Livia Pollio and they, in turn, had three children: Barbara, Janice, and the man himself, Anthony "Tony" Soprano.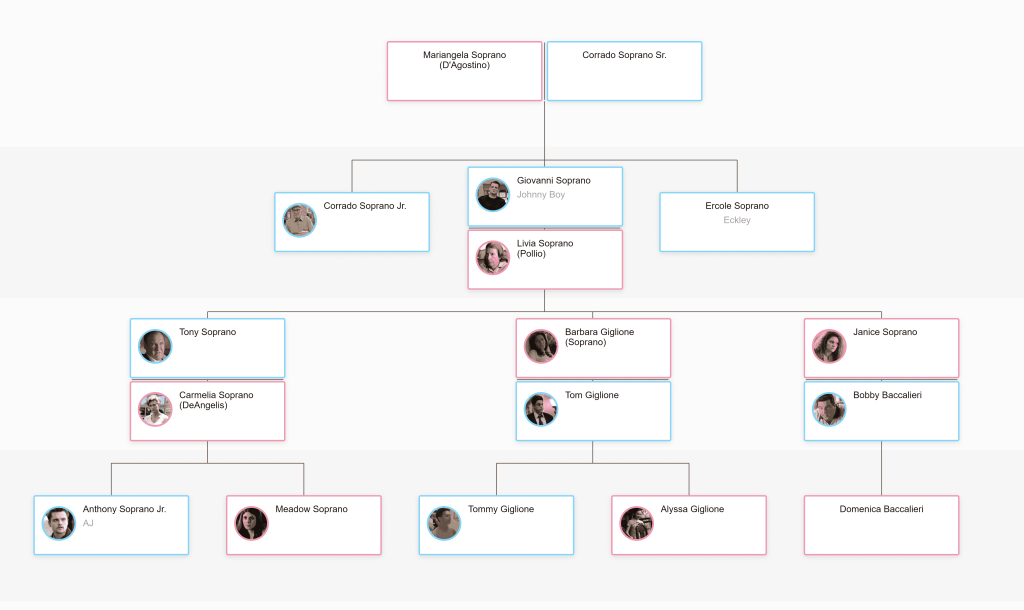 Tony has two children, Meadow Mariangela Soprano and A.J. Soprano, with his wife Carmela Soprano (née DeAngelis). This brings us nicely to the Carmela Soprano family tree.
The DeAngelis Family Tree
The DeAngelis Family Tree starts with Carmela's paternal grandparents, Orazio DeAngelis, and her grandmother, Concetta Sposato. They had two children, Hugo and Lena DeAngelis.
Hugo married Mary Pellegrino, and the couple had one child, Carmela. 
Carmela's aunt, Lena DeAngelis, married Aldo "Hollywood Dick" Moltisanti. They too had only one child, Richard "Cousin Dickie" Moltisanti.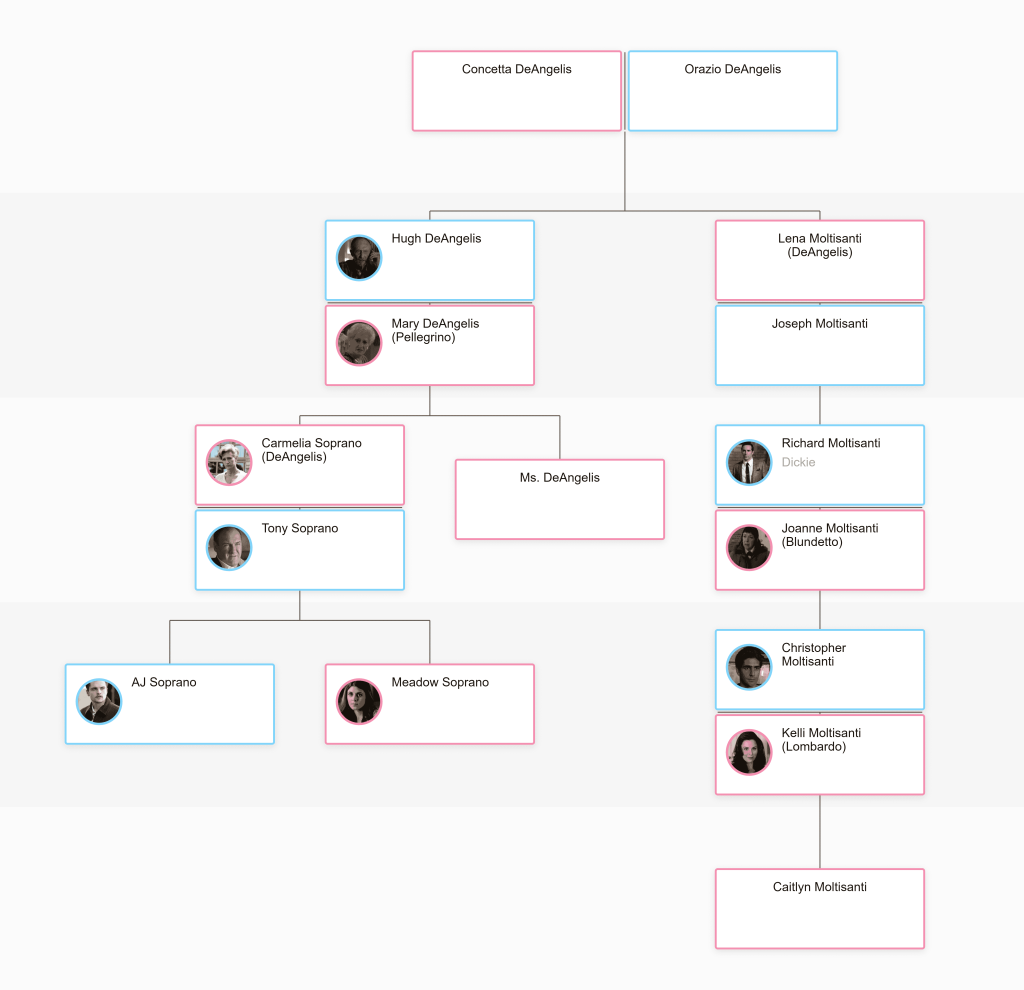 Richard's wife is Joanne Blundetto, and they have one child, Christopher Moltisanti.
The Blundetto Family Tree
Not much is known of the Blundetto family tree except that Joanne Blundetto was married to Richard "Dickie" Moltisanti – Carmela's first cousin. However, though her parents are unnamed, we do know that she has two siblings – Patrizio and Albert.
Patrizio's wife is unnamed, but he has a daughter, Louise Blundetto.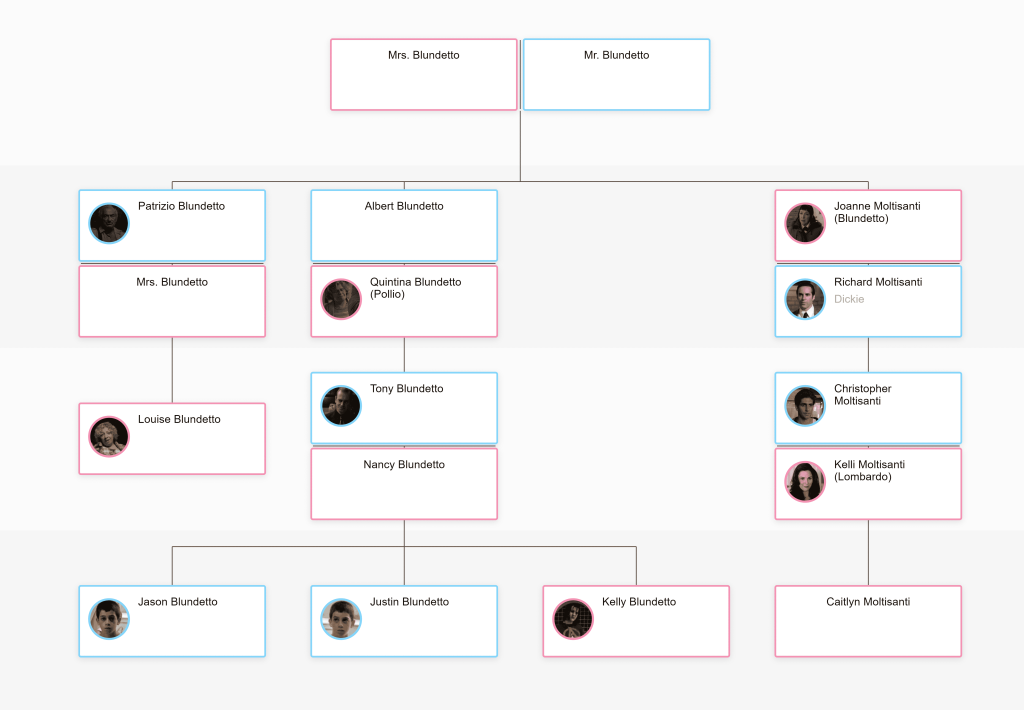 Joanne's second sibling, Albert Blundetto, provides the second link to Tony's family. Albert is married to Quintinina Pollio. If that name sounds familiar, that's because Quintinina is Tony Soprano's aunt. Tony Soprano's mother, Livia Pollio, is her sister.
Quintinina and Albert have one son, also named Tony. Tony Blundetto and his wife Nancy have three children, Kelli, Jason, and Justin.
The Aprile Family Tree
Of the four families, the Aprile family is the only one that does not have familial relations to the Sopranos family tree. The family is allied to the Sopranos though, and plays a big role in the whole plot. Information on the Aprile family tree is scant, with most of the characters weaving in and out of the plot as it relates to the politics of organized crime.
We have Richard "Richie" Aprile at the top of the family tree. He is the leader of the Aprile crew. When Richie is arrested and sentenced to ten years in prison, his younger brother takes over. This younger brother is Giacomo "Jackie" Aprile, the sickly acting boss we alluded to in telling Tony's story. Jackie eventually dies of cancer. His wife was Rosalie Aprile. The couple had two children, a daughter – Kelli, and a son – Jackie Aprile Junior.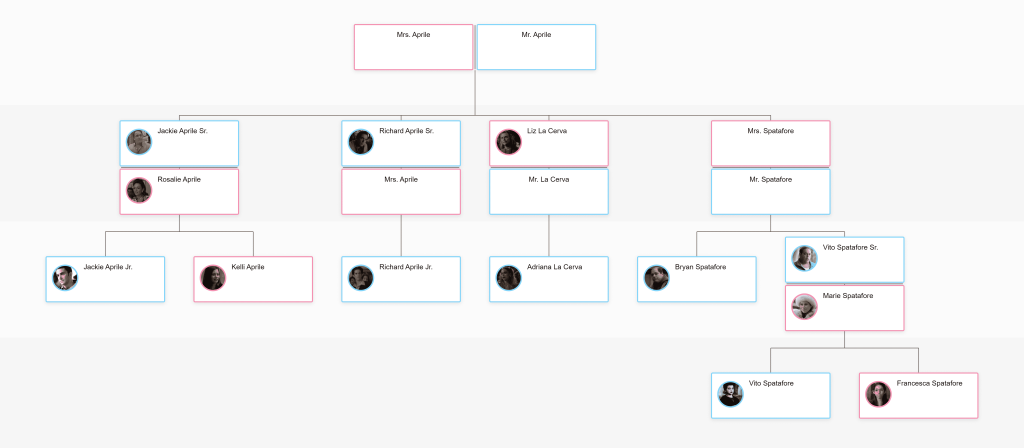 When Richie is released from prison, he finds himself at loggerheads with the now-influential Tony Soprano. The feud culminates in a plan to assassinate Tony, which Tony learns about, and he in turn starts to plan Richie's murder. Richie, however, gets himself shot and killed in a fight by his fiance, Janice – Tony's sister.
Apart from that there are relationships between Giacomo Aprile's son – Jackie Jr., and Tony's daughter – Meadow Soprano. Jackie Jr., like his uncle Richie, also manages to get himself shot and killed later in the show. 
Conclusion
Five Golden Globes, 21 Primetime Emmys, and a plethora of other awards illustrate just how good a show The Sopranos is. It has deservedly won critical acclaim and is credited for being a trailblazer for series, and is billed as the greatest, and best-written TV series of all time. This is by TV Guide, and the Writers' Guild of America, respectively. And they know a thing or two about TV series.
However, to fully appreciate the story, and the character arcs of each personality as their relationships play out on the screen, it is crucial to have an understanding of how exactly they are related to each other. The interwoven relationships add an extra dimension to what is already a great story that you can enjoy even more.
FAQ
Who are the main characters in "The Sopranos" family tree?
Tony Soprano, the leader of the Soprano crime family, his wife Carmela, their daughter Meadow, and their son Anthony Jr. are some of the principal characters in "The Sopranos" family tree. Some other noteworthy characters include Tony's mother Livia Soprano, his uncle Junior Soprano, his cousin Tony Blundetto, and his protege Christopher Moltisanti.
What is the role of Tony Soprano within the Soprano crime family?
Tony Soprano is the main character of "The Sopranos" family tree and is the head of his crime syndicate. Tony is a complex character who strives to find the right balance between his responsibilities as a mobster, a father, and a husband. His fear-striking personality is one of the main things that keep both his criminal operation and family safe. 
How does Carmela Soprano contribute to the dynamics of the family?
Carmela Soprano is Tony's wife and the matriarch of the Soprano family. She is far from the stereotypical mobster's wife, although she's pretending to be one. Carmela often serves as the family's moral compass, frequently criticizing Tony's behavior and attempting to instill good morals in their kids. She's also not blind to Tony's unlawful actions, but to keep the family's financial stability intact, she doesn't try to judge or undermine them.
How are Tony Soprano and Christopher Moltisanti related?
Despite not being blood relatives, Tony Soprano and Christopher Moltisanti have a close relationship. Technically, Christopher is Tony's nephew in law, as he's married to Tony's cousin Adriana La Cerva. However, Tony views Christopher as a son, with the latter even becoming the protege of the former. Their relationship goes through ups and downs throughout the series, with Tony frequently stepping in as a father figure for Christopher as he battles his addictions and other demons.
How are the Soprano and Blundetto families related?
The Sopranos and the Blundettos are blood relatives – Tony Soprano and Tony Blundetto are cousins, the latter is also cousin to Tony's sister, Janice Soprano. However, the relationship between these family members becomes strained when Tony Blundetto is released from prison, leading to tensions both within their family and their criminal organization.
How are the Soprano and DeAngelis families related?
The DeAngelis and the Sopranos are related by marriage. Robert "Bobby" Baccalieri, is married to Janice Soprano, Tony Soprano's sister. This strengthens the ties between the DeAngelis and Soprano families – Bobby Baccalieri Sr. plays a crucial role in the Soprano crime family and has a strong relationship with Tony.
How are the Soprano and Aprile families related?
The Apriles and the Sopranos are also connected through marriage. Janice Soprano, a sister of Tony Soprano, is wed to a formerly high-ranked member of the DiMeo crime family, Richie Aprile. Richie's brother, Jackie Aprile Sr. also played a significant role in the Soprano crime family before he was murdered. 
You can see more pop-culture family trees at Treemily.com so you will have an easier time catching up with stories and families woven into our culture.