The Friends Reunion: Family Trees of the Series Characters
06.29.2021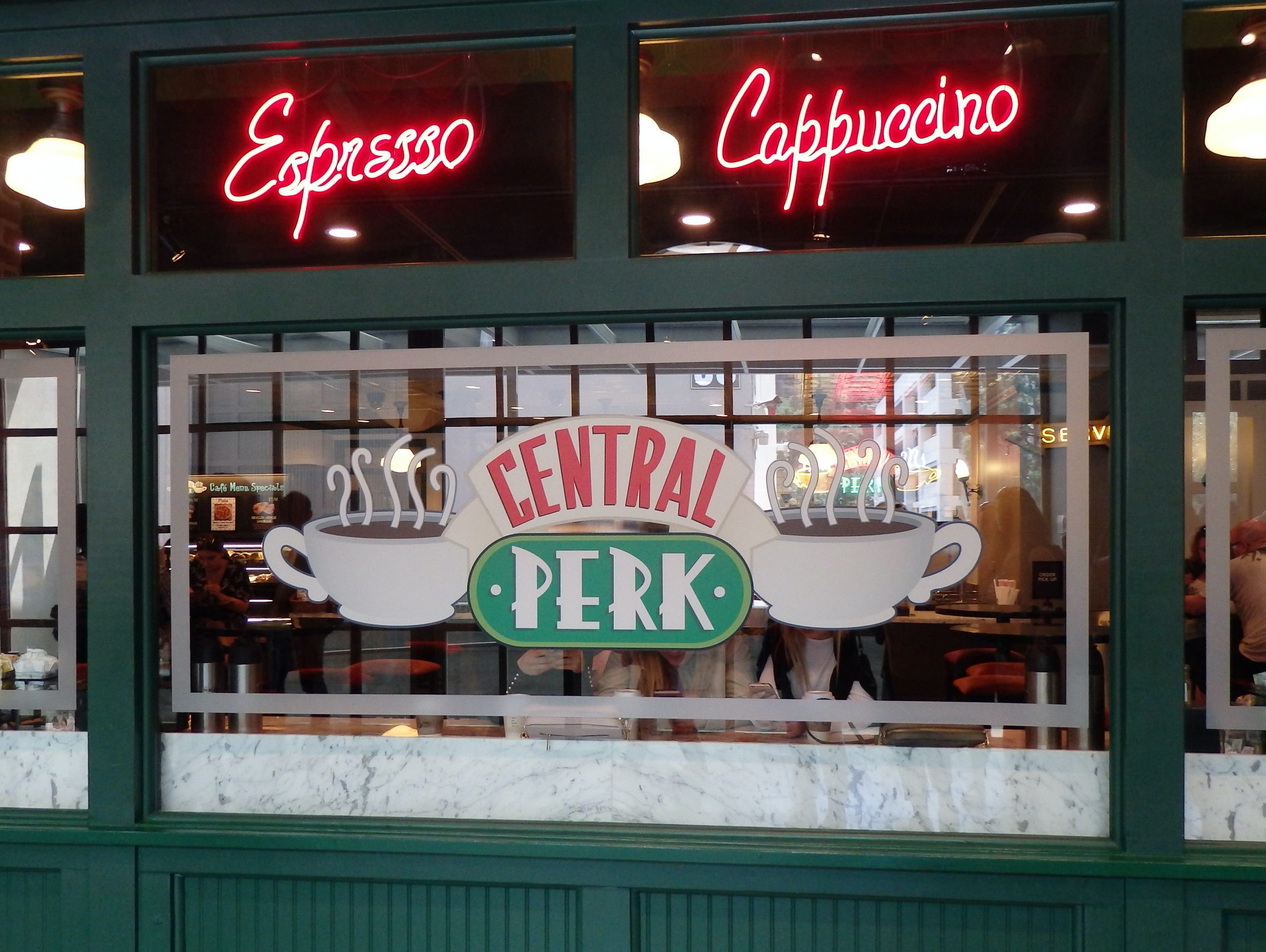 The Friends Reunion: Are They Just Friends or a Family?
27 years ago the Friends TV series aired on NBC for the very first time. This year, the entire sitcom cast celebrated their anniversary with the new reunion episode. The special called "The One Where They Get Back Together" premiered on May 27, 2021. The Treemily team decided to remember all of our favorite characters and see whether they've become more than just friends.
The TV series history
The TV show tells us the life story of six friends living in New York. The first episode of the show aired on NBS on September 22, 1994. The main cast included Jennifer Aniston, Courteney Cox, Lisa Kudrow, Matt LeBlanc, Matthew Perry, and David Schwimmer. The show lasted for almost ten years with the final 236th episode premiering on May 6, 2004. More than 52 million Americans watched the series finale, thus ranking this episode the 5th most-watched series finale in TV history. 
Friends became one of the most popular and beloved TV series of all time. It is still rewatched by millions of people all over the world.
Geller-Green Family Bonds
Those who've watched the series are probably well familiar with Rachel Green and Monica Geller characters portrayed by Jennifer Aniston and Courteney Cox, respectively. The very first episode of the show tells us a story of a spoiled girl from a very wealthy family named Rachel who left her fiancé waiting at the altar on their wedding day. And where did she go? That's right, she runs into the coffee shop that will become one of the centerpieces of the entire series looking for her childhood friend Monica. The same episode reveals that Monica's older brother Ross, portrayed by David Schwimmer, has been in love with Rachel since high school. He still gets all shy and clumsy in her presence.
So how did these two families get connected in almost ten years of their friendship? Well, if you've watched the series you know that it got a bit complicated. But in the end, everyone is happy. Ross Geller and Rachel Green are back together and are raising a beautiful daughter named Emma. Monica marries her brother's best friend Chandler Bing, portrayed by Matthew Perry, and the two adopt twins Erica and Jack. As you can see, four of the six friends have become a family.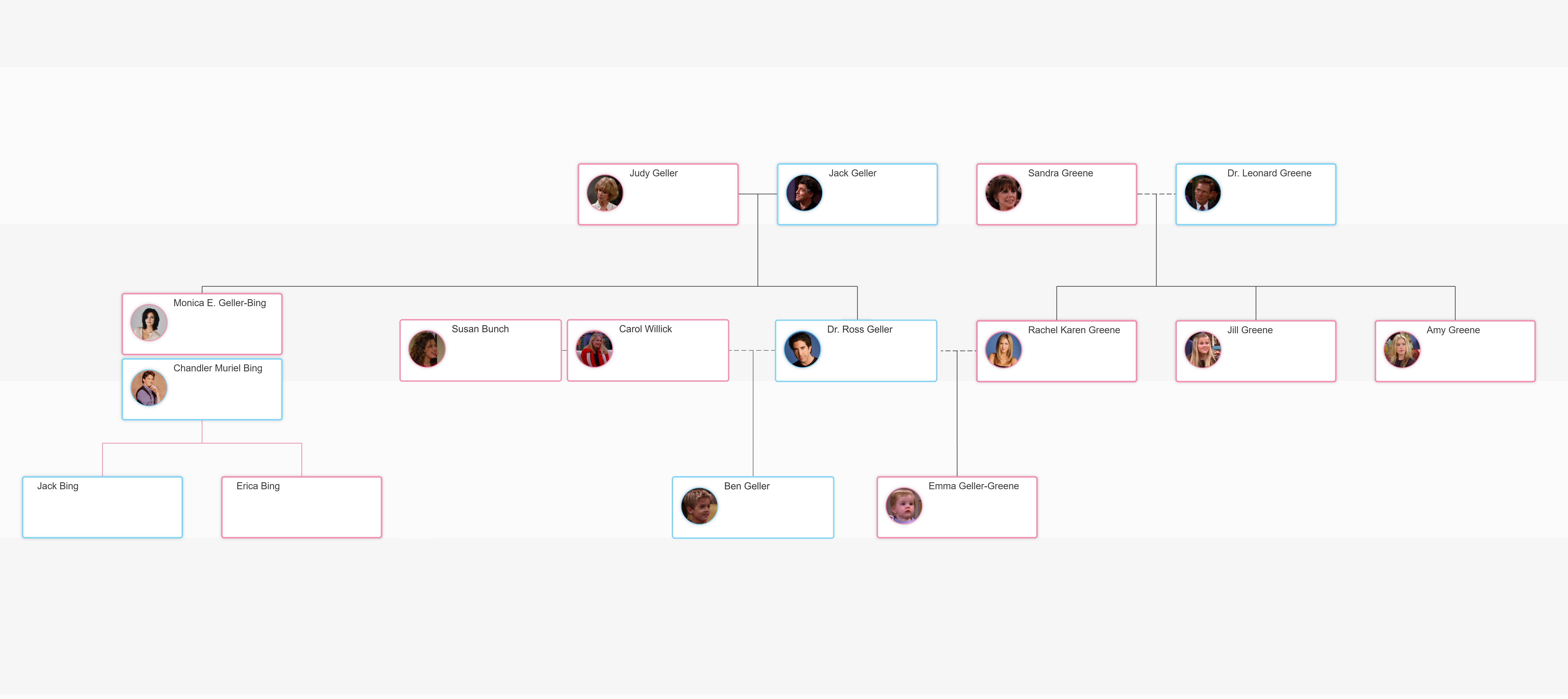 Phoebe Buffay Family Tree
Phoebe Buffay portrayed by Lisa Kudrow is one of our favorite and the most extraordinary characters in the series. A self-taught musician, she writes and sings her songs and plays the guitar. We bet there is no such person who hasn't heard "Smelly Cat" at least once. From the series, we learn that Phoebe had a tough childhood living on the streets of New York City. She also has an identical twin sister named Ursula with whom she doesn't get along. As a TV character, Ursula appeared earlier on screen than her sister Phoebe in the sitcom Mad About You. 
Over the show, Phoebe had multiple relationships but none of them were serious. David, a scientist who left for Minsk on a research grant, was her biggest love. In season nine, Phoebe started dating Mike Hannigan who has recently divorced his wife and was not planning on getting married again. Phoebe had to break up with these two men for a reason, but they both return to her life during the final season. So, are you Team Mike or Team David?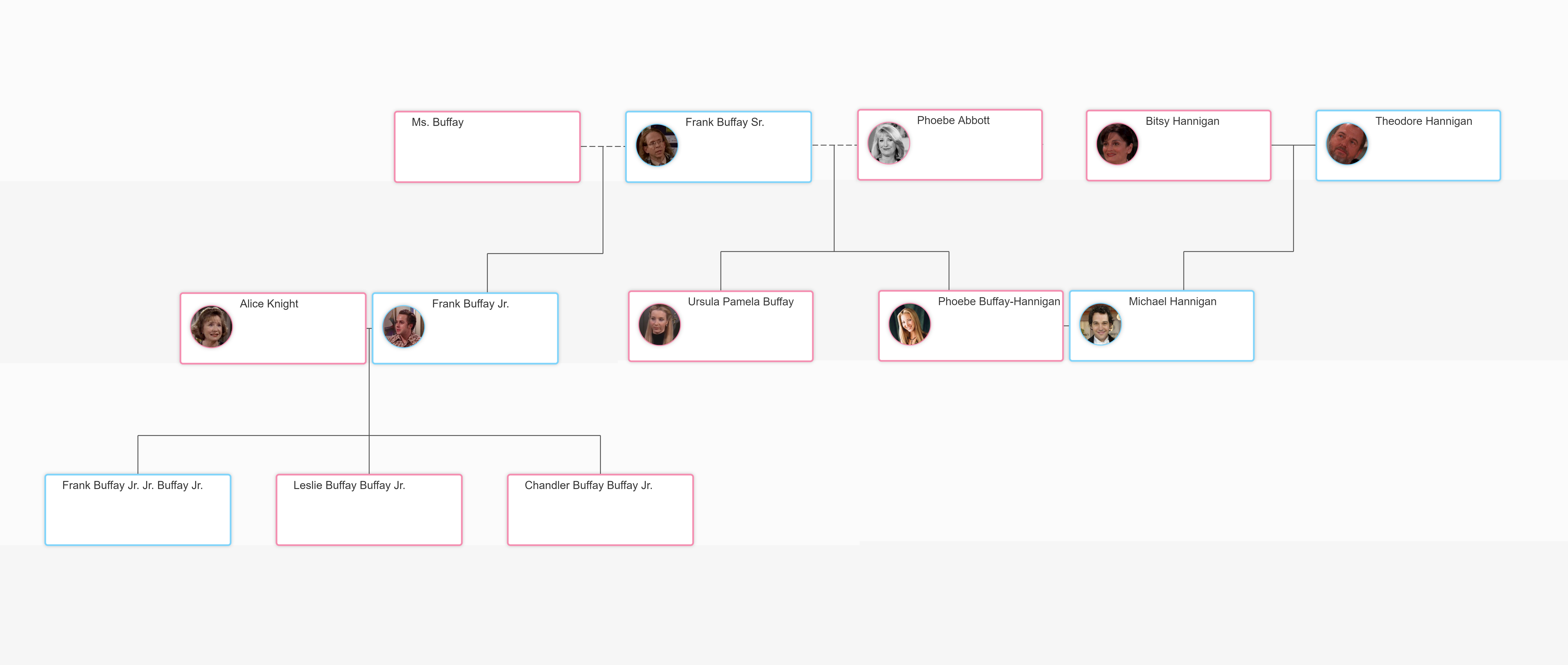 Tribbiani Family Tree
Joseph Francis Tribbiani Jr., better known as Joey portrayed by Matt LeBlanc, is the only series character who got his own spin-off show called Joey aired on NBC from 2004 to 2006. If you've ever tried to remember the names of Joey Tribbiani's sisters, you know how hard it can be. Our Tribbiani family tree can help you out. Joey has one older sister called Gina and six younger sisters Tina, Dina, Maty-Angela, Mary-Therese, Veronika, and Cookie. Do you remember which one kissed Joey's friend Chandler?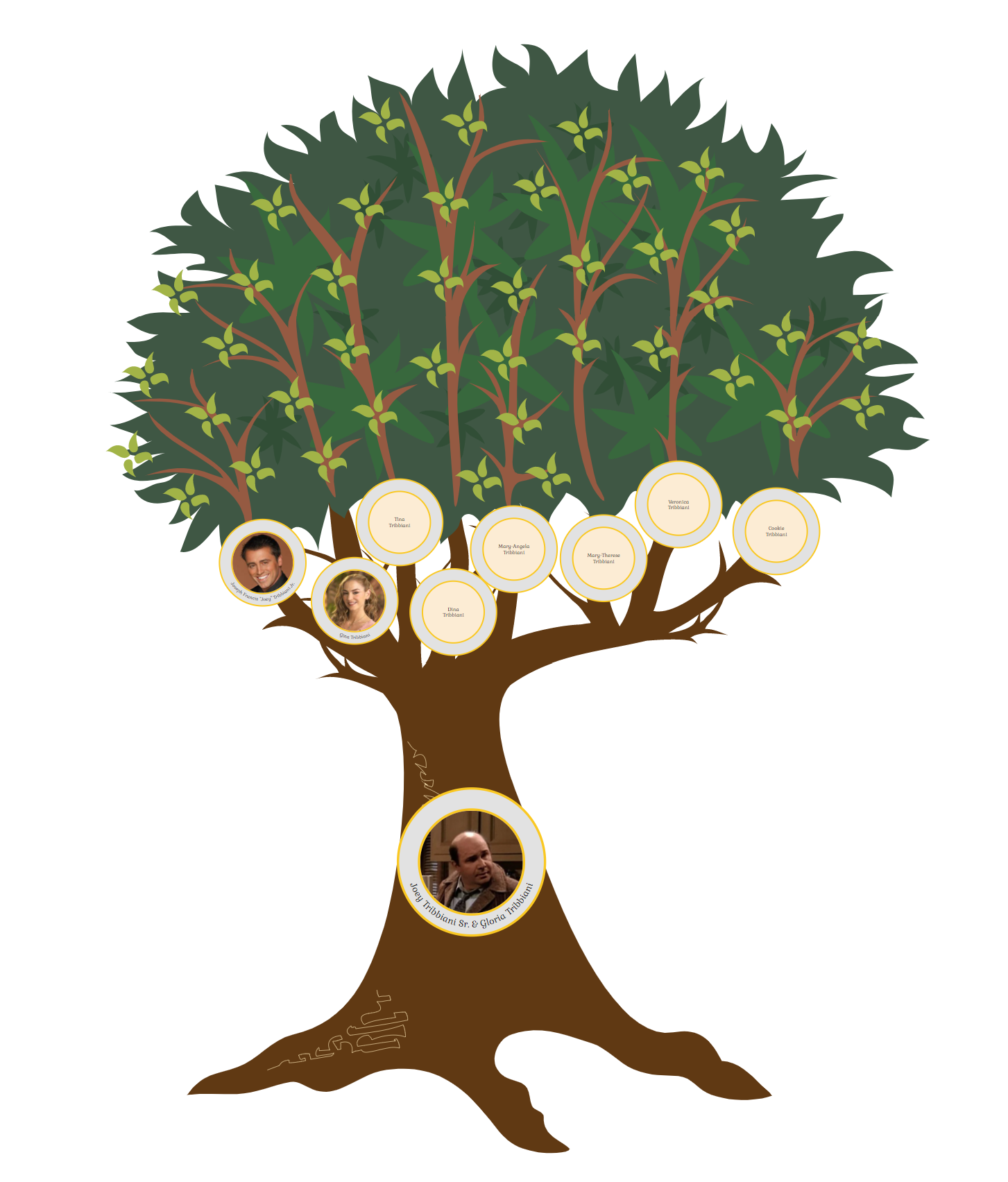 Final Thoughts
If you are looking for a special and personalized gift for your friends or family members, a family tree can become one. Try the Treemily family tree chart maker for free to create unique family tree visualizations tracing back your entire family history.