The Von Trapp Family Of "The Sound of Music": Movie vs. Reality. Get To Know The Real Family With Its Family Tree.
12.19.2022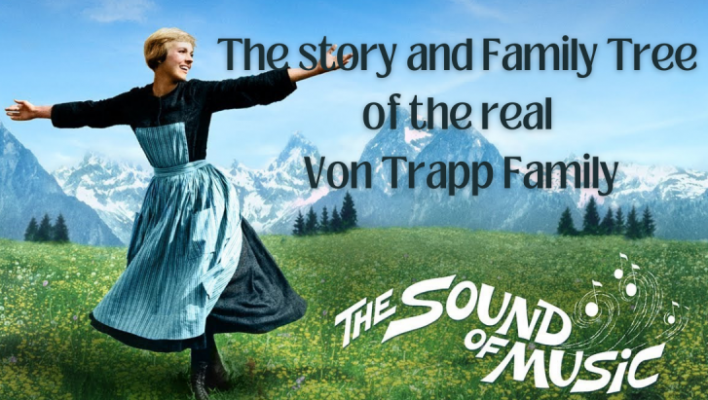 The Sound of Music film is undoubtedly one of the all-time greats. The story about a young governess to a retired naval officer's seven children that inspired the family to become a renowned singing group (Trapp Family Singers) has been warming people's hearts for decades. But was the von Trapp family real? Is The Sound of Music based on a true story? Let's find out.
"The Sound of Music": from book to a musical
It all started with The Story of the Trapp Family Singers, Maria von Trapp's 1949 memoir. The book traces Maria and the von Trapp family's beginnings in Salzburg, Austria, through their escape from Nazi-occupied Europe, and the family's eventual relocation to America.
The book really caught on – ten years later, we saw a whole musical with scores and lyrics by Richard Rogers and Oscar Hammerstein hitting Broadway. But it wasn't when the von Trapp's family fame culminated. In 1965, Robert Wise famously directed The Sound of Music, a cinematic recreation of the story, which garnered universal praise and collected 5 Academy Awards. Its joyful celebration of music, dance, patriotism, familial love, and romantic love propelled it to stardom and made the tale of the von Trapp family a legend.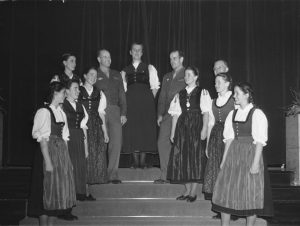 Movie vs. Reality: The Real Story Of The Von Trapp Family
It's no big surprise that The Sound of Music, although based on a true story, deviated quite a lot from Maria's book. Let's take a look at what was portrayed differently:
Movie: Maria was a governess to Georg's seven children.
Reality: Maria was a tutor for just one of Georg's daughters, Maria Franziska, as she was recovering from scarlet fever. 

Movie: Maria fell in love with Georg and they got married soon after she was sent to their household.
Reality: Georg von Trapp was not the reason for Maria's marriage to him. According to what Maria wrote in her memoirs, she fell in love with the kids and not their dad right away. She was unsure if she should give up her monastic vocation when he proposed to her, but the nuns encouraged her to follow God's plan and marry Georg. "I really and truly was not in love. I liked him but didn't love him. However, I loved the children, so in a way I really married the children. By and by I learned to love him more than I have ever loved before or after."

Movie: the von Trapps had seven kids.
Reality: Georg had seven kids with his first wife, but after marrying Maria, they had three more.

Movie: Georg was quite aloof, disapproving of music.
Reality: Instead, he was a kind, compassionate parent who delighted in musical activities with his family. While this shift in his personality may have improved the narrative by stressing Maria's curative power over the von Trapp family, it wasn't exactly an accurate depiction.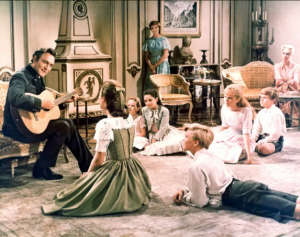 Movie: The von Trapps' destination was Switzerland, as they were climbing mountains with heavy suitcases.
Reality: Italy was the von Trapps' destination, not Switzerland. Zadar, now in Croatia, where Georg was born, was formerly a part of the Austro-Hungarian Empire. Georg, his wife, and their children are all Italian citizens as a result of Zadar joining Italy in 1920. When they departed Austria, the family had a contract with an American travel agent. They got in touch with the agent in Italy and asked for a fare to America. "We did tell people that we were going to America to sing. And we did not climb over mountains with all our heavy suitcases and instruments. We left by train, pretending nothing."

Movie: Maria always remained a calm and kind presence in the family, despite any setbacks.
Reality: The real Maria wasn't always as nice as the fictional Maria, she was prone to violent outbursts that included screaming, throwing objects, and slamming doors. However, she would quickly recover and her sense of humor would come back soon after.
Maria and Georg Ludwig von Trapp
Maria Augusta Kutschera was born in 1905. She became an orphan at a very young age and was brought up by an abusive uncle who was an avid atheist and socialist. However, that didn't stop her from becoming a Catholic in her adulthood. She was exposed to religion while attending teachers' college and after graduating, she entered the Benedictine Abbey of Nonnberg in Salzburg as a novice.

Georg von Trapp, an 1880-born captain in the Austrian navy during World War I, rose to fame as a national hero. As a reward for his bravery while commanding submarines, he was given the title of "Ritter" (knight), and afterwards baron. In 1912, Georg married Agathe Whitehead, a descendant of torpedo designer Robert Whitehead. Shortly after World War I, Georg retired from the navy, and a couple of years later, he lost his wife to scarlet fever. After she passed away, the family was saddened and, unable to stay in the home where they had been so happy together, Georg sold his property in Pola (now Pula, Croatia), and instead purchased a manor in Salzburg.

In 1926, Maria was assigned by the monastery to tutor one of Georg's daughters, as she was getting over scarlet fever. Maria fell in love with the von Trapp family, and she and Georg married just a year after the novice first arrived.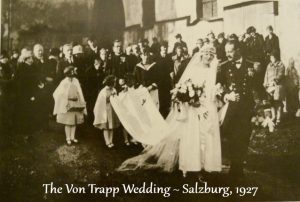 Kids 
Rupert (1911-1992), Agathe (1913-2010), Maria Franziska (1914-2014), Werner (1915-2007), Hedwig (1917-1972), Johanna (1919-1994), and Martina (1921–1952) were the first seven Trapp children that Georg had with his first wife before she succumbed to scarlet fever. Rosmarie (1929-2022), Eleonore (1931-2021), and Johannes (b. 1939) were the children born later – Georg and Maria's children. Agathe, the oldest daughter, who is referred to as "Liesl" in the movie, wrote her own memoir of growing up in the Trapp family in 2003, Memories Before and After The Sound of Music, which was eventually adapted into the 2015 movie The von Trapp Family: A Life of Music. 

Legacy: Where Are They Now?
All of the original family members, but one (the youngest son Johannes) are no longer alive. After fleeing Europe, the family moved to Stowe, Vermont, in the early 1940s and bought a farm there. In 1944, Maria and her stepdaughters Johanna, Martina, Maria, Hedwig, and Agathe submitted statements of intent to the U.S. District Court in Burlington, Vermont, in order to apply for citizenship. Rosmarie and Eleonore acquired citizenship through their mother, Johannes was born in the country and was a citizen in his own right, while Rupert and Werner were naturalized while serving in the American military during World War II.

Georg passed away in 1947 and was laid to rest at the nearby family plot of land. In 1948, those who had filed for citizenship were granted it. In 1950, the Trapp Family Lodge, which is still in use today, started welcoming visitors. The Trapp Family Singers continued to enjoy popularity and success, but in 1955 they made the decision to stop touring. Many of the von Trapps wanted to pursue other activities, so the majority of the group was made up of non-family members; only Maria's unwavering determination had managed to keep the group together for so long.

Maria, Johannes, Rosmarie, and Maria Franziska, traveled to New Guinea to carry out missionary work in 1956. Rupert became a physician, Agathe taught in a kindergarten in Maryland, Werner became a farmer, Hedwig taught music, Johanna got married and eventually moved back to Austria, Martina got married but gave birth to no children. After coming back from New Guinea, Rosmarie settled in Vermont, and Johannes oversaw the Trapp Family Lodge. Maria passed away in 1987.

Conclusion 
The von Trapp Family Singers will forever remain in people's memories as a strong example of how a hardship-stricken family can be revitalized and how dreams can come true against all odds. And while The Sound of Music film may be portraying the family in a much more dramatic and idealistic light, this should never negate the gigantic efforts and the willingness to remain happy and united in one of the most difficult periods of human history.