Christmas is fast approaching and it's time to think about presents for your loved ones. While it's nice to know that express delivery exists, you shouldn't rely on express shipping as the only strategy.
These Christmas gift ideas will make everyone's holiday special and you don't have to look anywhere else for ideas – just take a look at our collection and start ticking off your list today. Pro Tip: Pick up a little something nice for yourself too!
Crafts Classes Membership
If your recipient is an arty type, they will appreciate getting a crafts workshop certificate. There are multiple sites with access to thousands of tutorials on everything from quilting to cake decoration. Just pick what your loved one would be interested in.
Professional Sketch Folio
If your recipient likes drawing, a sketch folio will be a great present. A compact carryall with plenty of pockets for supplies – your gift will be a starting point for many great works to come.
A Year Planner
If your recipient has already started thinking about New Year's resolutions and wants to be more organized next year, a planner should be your top pick. A planner with a stylish cover design and inspirational quotes can really help with that.
Family Tree
The recipient is a family history enthusiast but you can't come up with any Christmas gift ideas? A family tree is a super thoughtful Christmas gift – imagine how much time and effort the giver has to put in to do research and create a tree. Though no one can do that for you, the good news is that you can shorten the process by using Treemily. You just need to enter dates and names and your tree will be ready in a matter of minutes.
Infographic: Why Family Tree Is a Great Christmas Gift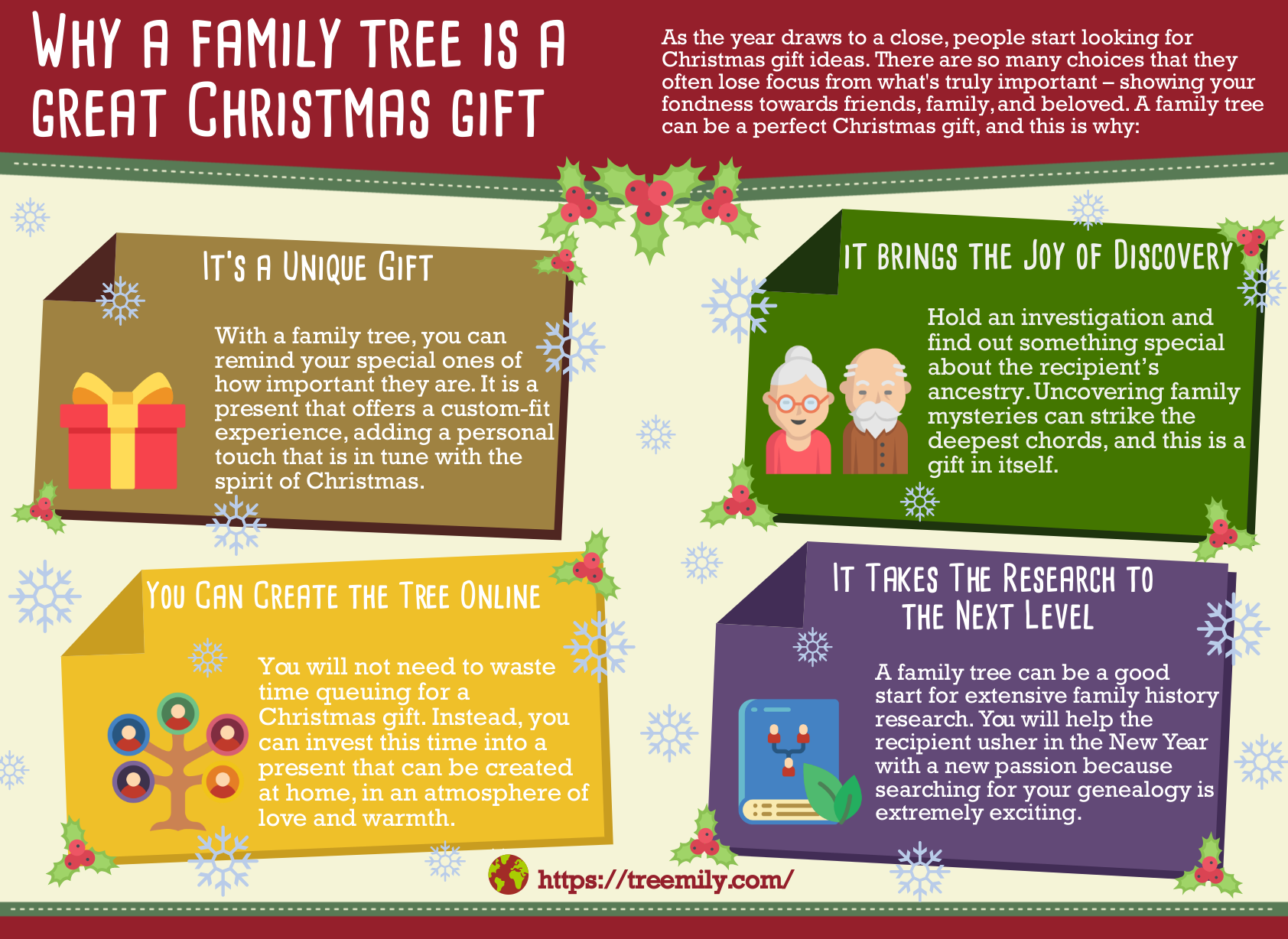 If you are pressed for time, then a gift certificate would be a great option. All that the recipients will need to do is to stroll down their genealogy lane picking up those who are dearest to their hearts and immortalize them on a family tree.
Scented Candle
Scents evoke memories, and a beautiful set of deliciously scented candles will fill your recipient's space with reminders and make them go warm for hunker-down winter vibes.
Class Subscription
Cooking with Gordon Ramsay? Taking photographs with Annie Leibovitz? With a master class subscription, your recipient can learn tips and tricks straight from the experts and turn their hobby into a career possibility.
Cooling Pint Glasses
The next time the beer snob in your life complains about a lukewarm beer bring them chillable glasses. With a set of freezable glasses, they will be able to drink beer precisely between 43°F and 53°F – the perfect temperature.
Freeze Whiskey Cup Set
If your recipient favors whiskey over beer, buy them a set of whiskey chillers. Hold the glasses in a freezer for an hour or two and the drink will stay cold for hours. Backpack If your loved one likes traveling light, a backpack will come in handy. Just a tip for you: pick a backpack with plenty of additional storage space, and it can become their go-to work and weekend carry-all as well.
Wireless Headphones
You can't go wrong with a pair of wireless headphones. Some people like huge bass, some people just want them loud. No matter what you choose, wireless headphones will help your loved one turn on and tune out.

Weighted Blanket
The weighted blanket is a wonderful sleeping gift for people who toss and turn at night. It's become a popular way for bad sleepers to get some shut-eye.
Customized Drinking Tumbler
If your loved one has a hard time rolling into work without their morning cup of coffee, a customized tumbler will be their remedy. Create a custom tumbler with a special message, fun design or both and delight your loved one with a heart-warming gift.
BBQ Set
A barbecue set is sure to be atop of any holiday wish list. Let your loved one refuel it with some hot dogs, burgers, and other grilling favorites and prepare for some seriously tasty meals.
Juicer
A juicer is something not everyone can afford, but something they would appreciate to get as a gift. A juicer is a pretty substantial and thoughtful gift and a must-have kitchen appliance for a healthy lifestyle.
Portable LCD Projector
A projector is a kind of gift you would never expect and it will certainly turn the bedroom into a new living room entertainment center. Now, they won't have to imagine what it's like to watch their favorite series on the big screen.

Thermo-Snuggly Sleeper Heated Pet Bed
If your recipient has a dog, they would love to get a snuggly heated bed. Everyone wants to have a warm place to rest, pups too.
Personalized Family Mugs
Put an end to fighting over the favorite mug – give each family member their own unique mug. Personalize them with names and artwork depicting each family member. You really can't go wrong gifting custom mugs!
Illustrated Portrait
If you want the most special gift ever, a custom portrait is what you need. A personalized portrait is unlike anything your loved one has seen before and also a beautiful, creative and unique gift.
Taco Serving Kit and Storage Box
No matter how your recipient likes their tacos, they can build them however they like with such a kit. Now every day can be a taco fiesta!
Fitness Tracker
If your loved one has started a list of New Year resolutions and wants to be healthier in the new year, a fitness tracker is a great gift option for them. It monitors physical activity, heart rate, and besides that, it is a great fitness wearable in its own right.
Espresso Maker
An espresso maker is a perfect option for people who like enjoying a delicious brew in the morning. And if you share a house with the recipient, the pleasure of this purchase may well be just as much yours.
Pumpkin Spice Set
If the recipient likes cooking, they will appreciate getting a pumpkin spice bundle. The spices will add delicious fall flavors to seasonal desserts. Complete the set with medium roast ground coffee and pumpkin spice cookie straws – who wouldn't want to receive such a gift?
Aromatherapy Essential Oil Diffuser
Everyone loves a fresh scent in their homes. A diffuser is a great gift for the essential oil fans. There is a variety of diffusers – anything from large ones to personal diffusers that can plug into a computer.
Spa Gift Card
Everyone loves a good spa day, and a gift card is an appreciated and easy gift. Let your loved one unwind and forget about the tension caused by the daily routine!
Finding the best Christmas gifts for your loved ones can be stressful. Luckily, our team has come up with many interesting Christmas gifts ideas. So sit back, relax and let Treemily find your perfect Christmas present!