Ellen Ochoa's Family Tree: Early Life and Family Members
10.13.2023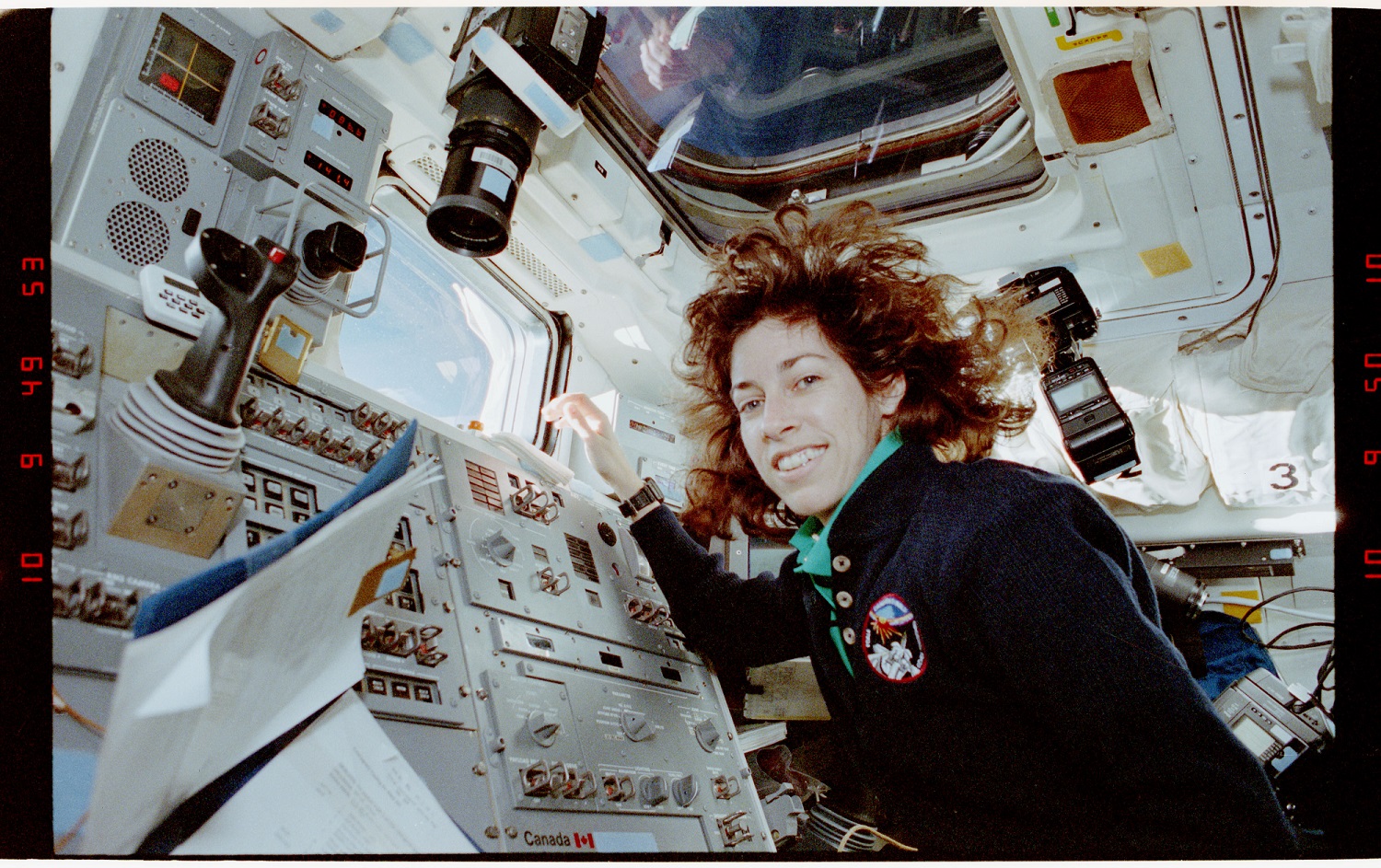 Ellen Ochoa is a legendary figure in the Hispanic community, being the first-ever Latina woman in space. Passionate, persistent, and strong-willed, she made a name for herself in the "rags-to-riches" style, achieving great things in the field of physics and astronomy.
But what is known about Ellen Ochoa's childhood and about her family? What role might they have played in her development and eventual achievements? Keep reading our Ellen Ochoa family tree to find out.
Ellen Ochoa's Childhood and Early Life
One of many famous Californians, Ellen Lauri Ochoa was born on May 10, 1958, in Los Angeles; however, she spent her formative years in La Mesa. During her high school years, Ellen exhibited outstanding academic prowess, culminating in her graduation as the valedictorian of her class in 1975 at Grossmont High School in El Cajon. 
Despite being granted a full scholarship to Stanford University, Ellen made the deliberate choice to enroll in San Diego State University, primarily driven by her desire to remain close to her home. Interestingly enough, upon entering college, Ellen initially contemplated pursuing a career in journalism; however, her college journey led her to a newfound passion for science, and she eventually decided to major in physics.
In terms of academic success, Ellen's college years were similar to her time at high school – she yet again distinguished herself, being a notable member of the Phi Beta Kappa society and emerging as the valedictorian of her graduating class in 1980. Following that, Ellen ended up at Stanford, where she obtained both a master of science degree and a doctorate from Stanford's Department of Electrical Engineering in 1981 and 1985, respectively. 
Ellen Ochoa's Career
In 1985, Dr. Ochoa submitted an application for the NASA Astronaut program for the first time, with the selection process taking place two years later, in 1987. She was granted an interview but unfortunately wasn't chosen at that time – a fact that would change her life as she persisted in her pursuit of her lifelong dream. Undeterred, she took additional steps to enhance her qualifications, which included obtaining a pilot's license to gain valuable operational experience. The efforts eventually paid off as, upon reapplication, she received an invitation for a second interview, ultimately leading to her selection as part of the 1990 NASA astronaut class.
A year later, in 1991, Ellen would make history when she completed her training, becoming the very first Hispanic female astronaut. Subsequently, in April 1993, she assumed the role of a mission specialist aboard the STS-56 mission on the space shuttle Discovery, also marking her as the first Latina to journey into space.
The goal of her maiden mission was to conduct a number of experiments collectively referred to as ATLAS-2 (Atmospheric Laboratory for Applications and Science-2). These experiments were supposed to bring more clarity as to how the Sun interacts with Earth's atmosphere. The crew also deployed the SPARTAN satellite, which was tasked with examining solar wind for two days before its eventual retrieval.
Ellen wouldn't stop there as in November 1994, she took part in the STS-66 Atlantis mission, which carried the ATLAS-3, a mission that revisited experiments she had previously worked on. Another small satellite, CRISTA-SPAS, was also released during this mission, dedicating eight days to the study of Earth's atmosphere before its retrieval.
In May 1999, Dr. Ochoa was also part of the Discovery STS-96 crew that successfully executed the first docking procedure with the International Space Station (ISS). The Discovery shuttle was responsible for delivering essential supplies to the ISS, preparing it for extended human habitation. Additionally, Discovery transported two cranes designed for attachment to the station's exterior, which would be instrumental in constructing the remainder of the space station.
Ellen would return to the ISS three years later, in April 2002, as part of the STS-110 mission, during which the team installed the first truss, basically serving as the ISS's framework. Ochoa and astronaut Daniel Bursch utilized the station's robotic arm to lift the truss out of Atlantis's payload bay and securely attach it to the space station. Overall, in the course of her four spaceflights, Ochoa accumulated more than 40 days in space.
After that, Ellen didn't have any more space missions to her name, but she has remained a very active part of the scientific community to this day. In 2007, Ochoa assumed the position of Deputy Director at the Johnson Space Center in Houston, Texas, eventually being promoted to the role of Director, making her the second woman and the first Hispanic to hold this prestigious post. 
During her tenure, she played a pivotal role in overseeing the development of the Orion spacecraft, which was designed for deep space exploration, potentially enabling human missions to destinations like Mars. She retired from her position in 2018 to take on the role of Vice Chair for the National Science Board (NSB) – the organization that governs the National Science Foundation, further assuming the position of NSB Chair two years later, in 2020.
Who are Ellen Ochoa's Family Members?
Ellen Ochoa's Parents
The Ellen Ochoa family tree begins with her parents Joseph and Rosanne (formerly Deardorff) Ochoa. Joseph was brought up in New Mexico, being the youngest of 12 siblings. Growing up, he and his brothers and sisters frequently encountered prejudice, which reportedly had a profound impact on him. A notable instance involved their access to the public pool, where Mexicans were restricted to swim only on the day before the pool's cleaning, mirroring the discrimination faced by Black families in the Southern states. Consequently, her father developed a strong desire for his children to be well-educated, and integrate into mainstream culture and insisted that they don't speak Spanish.
Likewise, her mother Rosanne held family and education in high esteem. Despite lacking a college degree, when Ellen was a kid, her mother embarked on a journey of self-improvement by enrolling in college courses – one class at a time. It was a lengthy 22-year endeavor, but she tenaciously pursued her goal of obtaining a degree, which inspired Ellen to pursue their own educational aspirations.
Ellen Ochoa's parents divorced when Ellen was in high school, with Rosanne getting custody of the children.
Siblings
Not much is known about Ellen's siblings, of which she has four – three brothers (Tony, Monte, and Wilson) and a sister named Cindi. It is known, however, that Ellen Ochoa and her family remain close even into their senior years – most recently, in May 2023, Wilson and Monte attended an event at San Diego State University where Ellen was a guest of honor. 
Marital Life and Kids
Ellen is married to an attorney named Coe Fulmer Miles, with whom she has two children together, Wilson and Olivia. Not much is known about them, as the family maintains their private life away from the spotlight. 
Extended Family
Who are the other Ellen Ochoa family members? There's hardly any public information about Ellen's extended family; however, what is known for certain is that her paternal grandparents are of Latino origin, arriving in Arizona from Sonora, Mexico sometime in the late 19th or early 20th century. 
Summary: Ellen Ochoa's Family Tree
The Ellen Ochoa family tree, as we know it, may not be the biggest one, but it doesn't make it less compelling. Ellen herself is an incredible example of sheer determination and passion for academic excellence. Despite coming from a simple family and suffering some setbacks, she managed to achieve great success in the field of astronomy, and her name will be forever etched in history as the first Latina woman in space.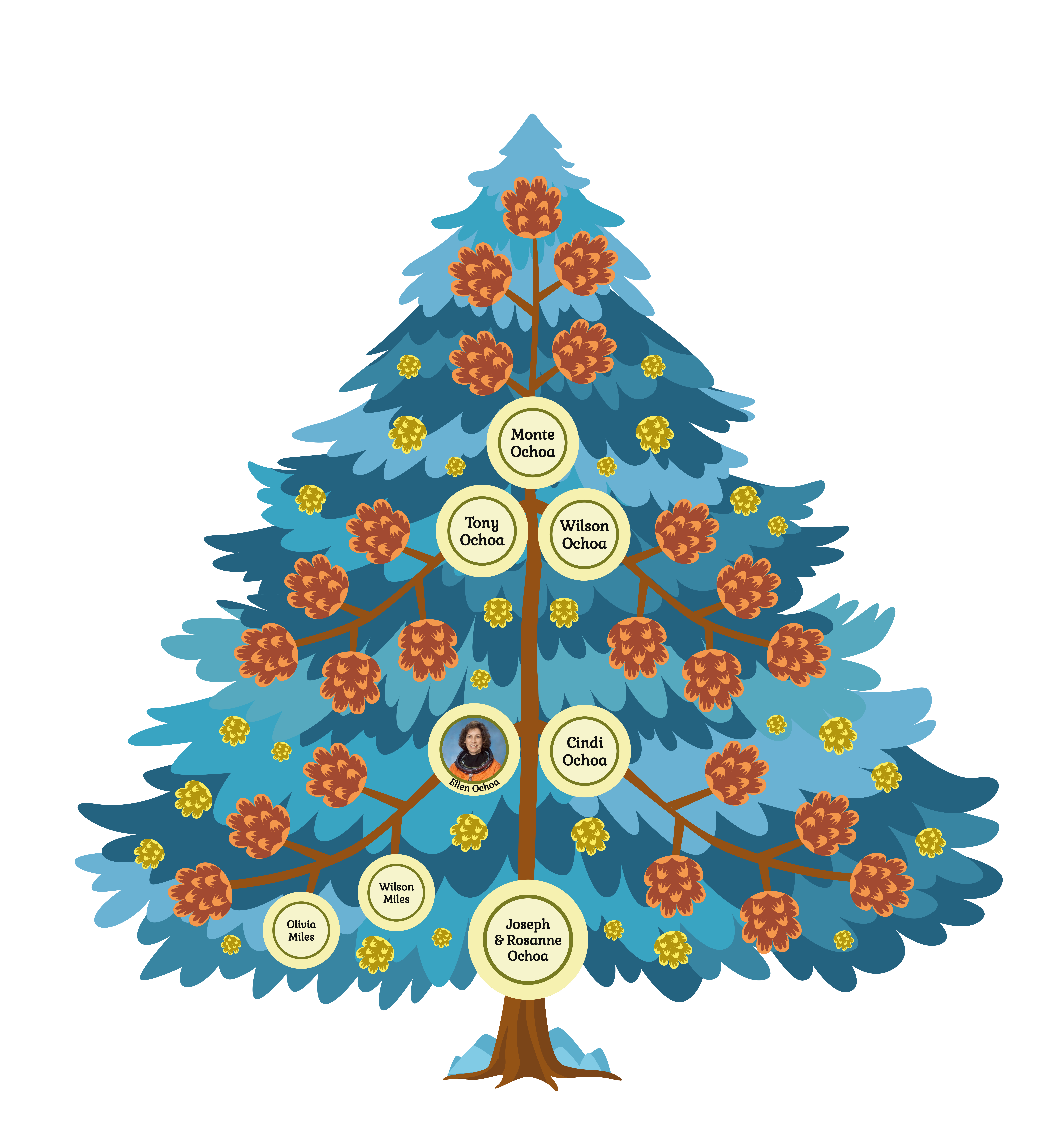 Although not much is known about the Ellen Ochoa family history beyond the very loving and supportive parents, there's enough evidence to suggest that her extended family is also close to her.
READ ALSO: