With Thanksgiving is just around the corner, you must be gearing up for buying gifts. Gift selection can be tough and no one wants to take the risk of picking the wrong one. We've come up with some gift ideas that will leave a favorable impression on the recipient.
Best Thanksgiving Gifts Ideas
Party Games Party games are great to start conversations and let guests get to know each other. There's a variety of games like "Would You Rather?" that can spark discussions and even debates.
Gift Certificate for a Family Tree
Don't forget that a certificate for a family tree may be an unusual and exciting gift for your loved one! The certificate can be emailed directly or sent by post. Log in to the system to purchase it. If your recipient has a keen interest in genealogy research, here are some more gift ideas for them.

Plant Pots
Though flowers are beautiful they never live long enough. Pots with plants around the house can keep our minds healthy and fresh – succulents have incredible staying power. So a pot with a plant may be an amazing present to your loved ones to show them how you want their lives to be full of happiness. Plants are even cuter in small ceramic pumpkin-shaped pots.
Plaid Blanket
A blanket is the ultimate fall chill-time companion (along with a cup of cocoa and Netflix movies). It will become a thoughtful present to show your appreciation that someone invited you over. Plus the plaid pattern is classic, timeless, and will never go out of style.
Decorative Wine Glasses
Glasses are perfect for a celebratory toast and will please your host right away. You can choose glasses with sparkly and glittery elements – they will add an extra shimmer to the dinner table.
Cinnamon Tea
Hot fragrant cinnamon tea will go perfectly with any type of Thanksgiving dessert. In fact, cinnamon tea is perfect for any cold afternoon curled up with a book by the fire. Wine Rack A wine rack may become an attractive addition to any home and will help your host display all of the wine they are gifted with.
Thanksgiving Wreath
Help your host to provide a little extra decor with a gorgeous wreath and create a festive atmosphere.
Cocktail Shaker
A shaker is a useful gift for cocktail aficionados. There are well-thought options featuring built-in recipes for classic drinks like from Old Fashion to Margarita. Mixologist Bar Set A bartender (even an amateur) without the right tools can't achieve good results. The bar set will let your host shake and stir to their heart's content.
Cheese Board
Every household needs a great cheeseboard. A gorgeous board will be a perfect gift for all sorts of occasions, and Thanksgiving is no exception. Choose the marble option as it will keep appetizers and desserts at the ideal serving temperature.
Whiskey Set
Just because we are drinking years-old whiskey doesn't mean what we are drinking from doesn't matter. Whiskey glasses with a weighted base are a pleasure to hold. And whiskey stones will be a perfect match if the recipient likes drinks with a slight chill.
Picnic Backpack
If your host likes family outings then look no further than a special backpack. It has sections for dishes, plates, goblets, flatware and napkins, and other stuff. More elaborate options even have a detachable wine cooler and a throw blanket.
Wine Perfect for Fall
You can't go wrong with wine as a present. You can choose a wine with generous fruit character or spice notes – they play beautifully with turkey and all those delicious sides. Or you can look for sparkling refreshing pine wine – after all, what's a celebration without some bubbles?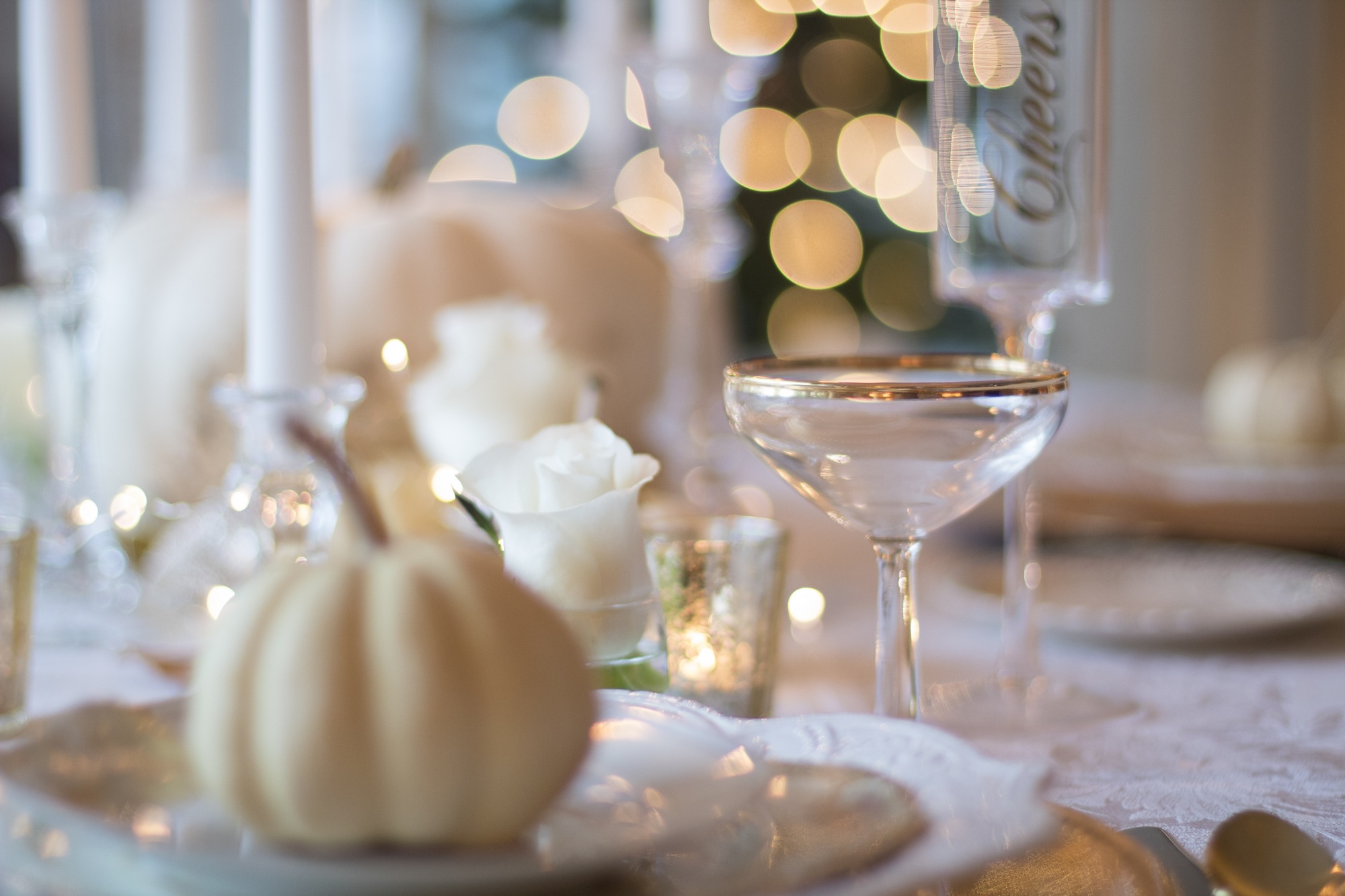 Thanksgiving Bouquet
A fall-inspired bouquet will make the perfect addition to table decoration and become a gesture of your gratitude. Some might argue that such a present is useless, but is there really anything more beautiful than a bunch of flowers?
Beverage Tub
If your host likes holding big parties with many guests, think of buying them a beverage tub – it is a great gift for people who love to entertain. They come in all shapes and sizes – just choose which you like more.
Speakers
It wouldn't be a celebration without music! If you're looking for a more luxurious gift, a wireless portable speaker is a good choice. They can be moved around the house and sync up all devices. If you want to win points for a creative and unexpected pairing, create your own Thanksgiving playlist!
Gift Basket
If you like DIY presents, make your own Thanksgiving basket of gifts. Put a few chocolates, cookies, fruits and a bottle of wine. Decorate it with flowers and – voila! – you get a custom gift made with love.

Dinner Set
If you are going to celebrate this Thanksgiving with older relatives, they will probably be happy to get a fine dinner set. Food looks more delicious when served in beautiful tableware, so dinner crockery is one of the best Thanksgiving gifts for the whole family.
Photo Frames
If you prefer personalized Thanksgiving gifts, a photo frame set might be what you need. You can fill it with throwback photos and commemorate all unforgettable moments.
Make a Donation
If you can't come up with a present idea and don't want to buy useless things, make a donation in your host's name instead. If you don't know what organizations the host supports, you can obtain a gift card at JustGive.org and the host can later redeem the card and choose an organization to donate to.
As you certainly aim at gifting to impress, these ideas will help you to choose an original present that will express your gratitude and serve as a constant reminder of your close ties with the host.
What is a good Thanksgiving gift? The one that you put your soul into.